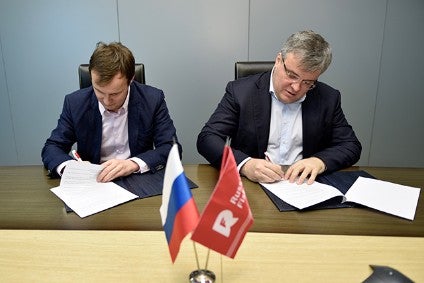 The Russian Fishery Company (RFC) is teaming up with food distributor Agama Group in ready-to-cook pollock products.
RFC will supply FAS Alaska Pollock fillet and mince blocks to Agama, which will produce the ready-to-cook fish products at its manufacturing facilities under the combined brand name of Agama-Nordeco.
Supply of FAS Alaska Pollock to Agama will begin in December ready for the roll-out of the Agama-Nordeco brand in retailers during the first quarter.
Fedor Kirsanov, who replaced Andrey Teterkin as RFC's chief executive this year, said: "We highly appreciate the experience and expertise of the Agama Group in the production and promotion of high-quality fish products. I am sure that the joint brand Agama-Nordeco will guarantee a consistently high quality of Alaska Pollock products."
Headquartered in Moscow, RFC is reportedly Russia's largest fishery with revenues of US$238m in 2016, according to its website. It primarily supplies Alaska Pollock and Pacific Herring. Agama is a frozen food supplier to the retail and foodservice channels.

Agama's CEO Yuri Alasheev said the agreement has been formed as part of a "long-term" partnership.
"Agama has always done and is doing everything to guarantee the Russian consumers the maximum quality of fish and seafood, which is impossible without close integration with producers of raw materials," he added.