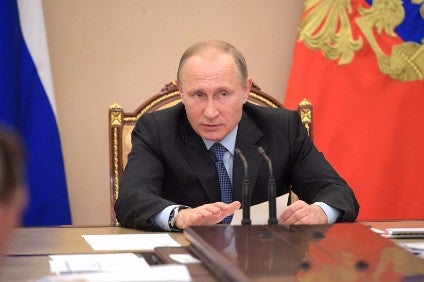 Russia President Vladimir Putin has decided to extend for another year the existing restrictions on imports of food and agricultural products from the EU – although the Kremlin has yet to decide whether it will prolong the embargo on the other markets it has covered, which include the US.
Putin has ordered the ban on EU food imports – first introduced in 2014 amid international tension over conflict in Ukraine and covering products including meat and dairy – will last until 31 December 2018. He last extended the ban in June last year, announcing it would remain in place until the end of 2017. The categories of food products covered by the existing ban will remain unchanged.
Putin's decision followed a recommendation from his close political ally and Russia Prime Minister Dmitry Medvedev. It was sparked by the EU's decision to extend existing financial and economic sanctions against Russia until 31 January 2018, citing Moscow's failure to help end the armed conflict in eastern Ukraine.
Russia has yet to make a decision on whether to extend existing food bans against the US, Canada, Norway and others, with the spokesperson saying that depended on what decisions they make on any sanctions they have put in place against Moscow.
Alexander Tkachev, Russia's agriculture minister, welcomed the decision, claiming the ban's extension would encourage the growth of food production growth within Russia. "These counter-sanctions could be beneficial for Russia for another ten years, as they provide a very favourable effect on investment … as well as growth in the Russian agro-industrial complex." Russia would "not suffer" from the food ban, Tkachev claimed.
However, some Russian food producers were less upbeat about the prospects for domestic production. Vyacheslav Smauts, head of Smauts and Partners, a major agricultural company, based in Voronezh in central Russia, said: "The main goal of these measures is protectionism. They could be more effective if the state would also provide more support for medium and small businesses that would stimulate competition the domestic agricultural and food sector."