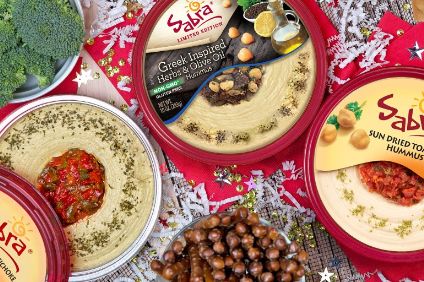 Sabra Dipping Company, the US-based joint venture between PepsiCo and Israel's Strauss Group, is expanding its hummus-making facility in Virginia.
The Chesterfield County facility – believed to be the largest of its kind in the world – is to be expanded by 40,000 sq ft. Once complete, the facility will be around 260,000 sq ft in size.
Sabra said the expansion – already underway – will allow it to further expedite product delivery to retail customers.
The new addition will more than double Sabra's finished goods storage capacity, lay the groundwork for more customised products and result in an improved carbon footprint, the company said.
According to research organisation IRI, the US fresh dips category is estimated at US$2.15bn, with hummus representing more than 37% of that total.
Sabra maintains an approximate 60% market share of hummus sales in the US.
Tomer Harpaz, Sabra's chief executive officer, said: "Already we are witnessing the way hummus consumption in the US is shifting from special occasion dip to an everyday feel-good food.
"This is exactly the type of investment we love going about, because it's all about product creation. This project, expanding the warehouse, will enable us to improve our service to our customers, to run operations more effectively, more efficiently, so we can allocate more resources to improving our products."
In addition to its hummus, Sabra's product line includes salsa, guacamole and tzatziki.