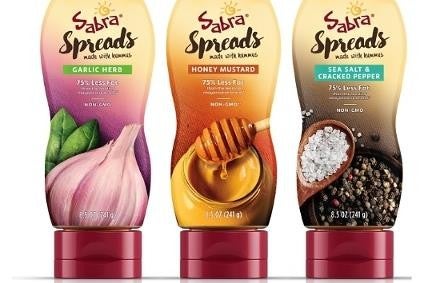 Sabra Dipping Company, the US-based joint venture between PepsiCo and Israel's Strauss Group, is launching a line of refrigerated sandwich spreads, Sabra Spreads.
The hummus sandwich spreads come in a squeezable bottle and are being pitted against traditional sandwich condiments. Sabra Spreads have 75% less fat than the leading spread, mayonnaise, the company said.
The line consists of three varieties: garlic herb, honey mustard and sea salt & cracked pepper. All three products are kosher, gluten free, and non-GMO. The suggested retail price is US$3.99 per bottle.
Eric Greifenberger, director of marketing at Sabra, said: "With the launch of Sabra Spreads, we're giving consumers fresh new ways to love hummus while upgrading everyday sandwiches. The line was developed, from a nutritional, texture and taste standpoint, specifically to make sandwiches sing with added flavour. We are thrilled to introduce an incredible guilt-free innovation for the condiment category."
The launch, due in September, will be supported by "significant" digital engagement activity, a sampling tour and in-store promotions.