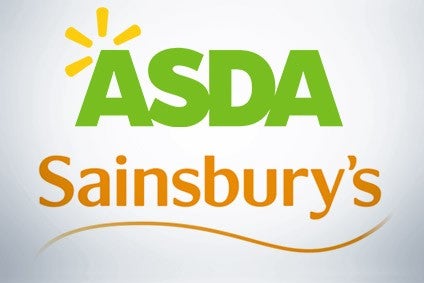 UK 'big four' supermarkets Sainsbury's and Asda have proposed a package of measures which they hope will persuade the country's competition watchdog to allow their planned merger to go ahead.
They include GBP1bn (US$1.33bn) of lower prices annually by the third year post-completion, fast payments to small suppliers, and store and petrol forecourt divestments across both brands.
Last month, the UK's Competition and Markets Authority (CMA) suggested the proposed merger between the retailers could potentially be blocked after its investigation suggested a deal could lead to higher prices for consumers and a lessening of competition across the sector.
The watchdog argued the transaction could lead to a "poorer shopping experience" for in-store and online shoppers, as well as a reduction in the range and quality of products on offer.
The timetable to release its findings was recently extended to late April.
But in their response to last month's provisional findings, Sainsbury's and Asda said today (19 March) they "strongly disagree" with the CMA's conclusions and said they have found the CMA's analysis of their proposed merger to contain "significant errors".
"This is compounded by the CMA's choice of a threshold for identifying competition problems that does not fit the facts and evidence in the case and that is set at an unprecedentedly low level, therefore generating an unreasonably high number of areas of concern," they said.
But they have made a number of post-merger commitments to try and get the deal over the line.
In addition to aiming to deliver GBP1bn of lower prices, the retailers said they would invest GBP300m in the first year of the combination and a further GBP700m over the following two years as the cost savings "flow through". This would reduce prices by around 10% on everyday items, they suggest.
Sainsburys said it would move to pay small suppliers (those with a turnover up to GBP250,000) within 14 days, while Asda will continue to pay its small suppliers within 14 days, in line with existing commitments.
The supermarkets, which also said they would commit to either a capped price or low-price fuel strategy, said they will create cost savings in three ways: by securing lower purchasing prices from suppliers, predominantly by paying the lower of the two prices that Sainsbury's and Asda currently pay large suppliers for identical products; by putting Argos stores into Asda; and by jointly buying shared goods and services and reducing central costs.

Sainsbury's chief executive Mike Coupe and Asda CEO Roger Burnley said in a joint statement: "We are trying to bring our businesses together so that we can help millions of customers make significant savings on their shopping and their fuel costs, two of their biggest regular outgoings.
"We are committing to reducing prices by GBP1bn per year by the third year which would reduce prices by around 10% on everyday items. We are happy to be held to account for delivering on this commitment and to have our performance independently reviewed and to publish this annually.
"We hope that the CMA will properly take account of the evidence we have presented and correct its errors. We have proposed a reasonable yet conservative remedy package and hope the CMA considers this so that we can deliver the cost savings for customers."
Reacting to the Sainsbury's/Asda announcement, Thomas Brereton, a retail analyst at data and analytics company GlobalData, said: "Details of Ocado and M&S's GBP1.5bn online venture have been published since the latest from the CMA, introducing a new variable into online grocery competitiveness evaluation – another issue rightfully previously flagged by the CMA, given that over 75% of the online market is controlled by the big four, Ocado and Amazon.
"For Sainsbury's to forge on – with what many see as an already lost battle – shows how pivotal Sainsbury's feels consolidation at the top end of the grocery market is in order to stop long-term share decline at the big four, to use economies of scale and pressure on large suppliers to reduce shelf prices for shoppers."
The CMA's final report is expected by 30 April.
Plans to merge the supermarkets were first announced in April last year when Sainsbury's said it would pay Asda owner Walmart GBP2.97bn for a controlling stake in its UK supermarket subsidiary.