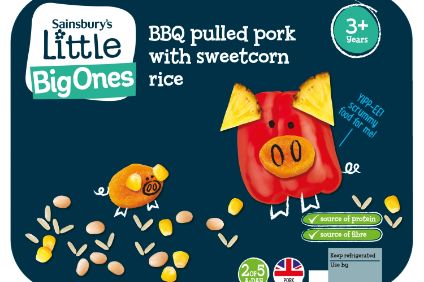 just-food publishes the most notable product development from the international food sector, presented in bitesize format to give you a flavour of the innovation from your peers and competitors announced this week.
UK 'big four' grocer Sainsbury's launches baby food range
UK 'big four' supermarket Sainsbury's has launched a baby food range under its Little Ones brand.
The range contains 50 new dishes for children aged form six months to three plus including Katsu Curry, BBQ Pulled Pork, Pasta Bolognese, Mild Chicken Curry or Butternut Squash Risotto.
The Little Ones range has been developed with registered nutritionist Fiona Wilcock, in a bid to introduce tots to savoury food from the outset of weaning and cater to the "very-developing palate" of today's babies and toddlers. The range also follows a 'vegetables first' approach with vegetables are in the majority of the products.
Charlotte Judd, product developer at Sainsbury's, said: "We're excited for Sainsbury's to launch the exclusive Little Ones baby food range with nearly 50 new flavours to try."
All products are organic up to 12 months. In order to allow fortification with iron, which is often lacking in toddler diets and which contributes to normal cognitive development in children, products from 12 months are not organic and are fortified where appropriate.
Sainsbury's Little Ones range is available in stores now. By August, there will be 25 more items, including puffed snacks, rice cakes and sandwiches.
Kraft Heinz targets Chinese millennials with Jif Jaf biscuits
Food giant Kraft Heinz has launched a new range of biscuits in China which it says are targeted at the country's millennials.
The Jif Jaf line is comprised of sandwich biscuits, butter cookies and wafers. They will be launched exclusively online via Kraft Heinz's strategic partnership with Alibaba's Tmall e-commerce platform.
Kraft describes Jif Jaf of being deliberately "odd" in terms of flavouring.
"Snack lovers should be prepared to be delighted by seductive cheese and chocolate, wonderful matcha and chocolate, spicy chilli and chocolate and the enticing double chocolate, "it said.
"As a country with a diverse, adventurous and experimental food culture, Kraft Heinz is committed to introducing new brands and products in China to continue to stay relevant to consumers."
Mentos goes sugar-free with Stay Free mints
Mentos is embarking on its first new product launch of the year with its sugar-free mints.
Mentos Stay Free mints are sweetened with stevia and will be available in two flavours: Peppermint and Menthol Eucalyptus. They come in a flip-top packaging format and contain five calories per sweet.
As one of the leading confectionery brands in the UK worth over GBP21m (US$28.9m), Mentos, which is owned by Italian-Dutch confectioner Perfetti Van Melle, said it will continue to invest in 2018 with a GBP3m 'Say Hello' marketing campaign.
Mark Roberts, marketing manager for Perfetti Van Melle, said: "Whilst the category is seeing decline, we are focused on driving more penetration in the market, and campaigns such as Say Hello help deliver this. We saw strong results last year and we are hoping to replicate this year with a full calendar of activity."
Perky Jerky moves into pork
US meat snacks brand Perky Jerky has launched a new product line in the shape of Pork Jerky.
The new jerky variety will hit shelves in June and is available in three flavours: Mountain Maple, Asian Five Spice and Coconut Curry.
Denise Sirovatka, chief commercial officer at Perky Jerky, said: "Our core consumers are busy millennials looking for high protein, low carb snacks they can enjoy on the run. But they want an alternative to beef and turkey jerky and are seeking globally inspired flavours. Our new line of pork jerky delivers a lean protein with exciting flavours that are right on trend."
The company said the launch of Pork Jerky is part of a brand evolution for Perky Jerky.
New candy brand flavours for Unilever's Breyers ice cream
Unilever's ice cream business Breyers has introduced four new flavours which combine the product with well-known candy and cookie brands.
The new Breyers 2in1 product comes in Oreo Chips Ahoy, Reese's Reese's Pieces, Snickers M&M's and Heath Waffle Cone varieties.
Russel Lilly, marketing director of Breyers, said: "We know every sweet tooth is different and choosing is hard, so we wanted to give our fans the best of both worlds – two favourite treats in one."
All four flavours of new Breyers 2in1 are now available in 48-ounce tubs at grocery stores throughout the US for a suggested retail price between US$3.99 and US$5.49.
Dr Oetker debuts Yes It's Pizza vegetable dough range
German-based food group Dr Oetker debuts 'Yes It's Pizza' in April made with a vegetable-based dough.
Available in two dough flavours – beetroot and spinach – the bases give a "unique, brightly coloured" appearance.
The version containing 35% pure beetroot in the dough is topped with zucchini, smoked ham, cheese and red onion. And the alternative with 35% pure spinach, is topped with mozzarella, broccoli and mushrooms.
Both will sell at a recommended retail price of GBP3.69 (US$5.08).
Jo Skinner, senior brand manager, said: "We are thrilled to be launching this new and exciting range of pizzas that follows the trend of added vegetables, which is becoming increasingly popular."

Pinnacle Foods expands its Gardein meatless portfolio
US food company Pinnacle Foods has expanded its frozen meatless brand's range with Gardein Skillet Meals.
Described as vegan meal solutions for two, Gardein Skillet Meals marry the brand's "meatless meats" with a variety of vegetables, grains and pastas in sauces.
The four new products are non-GMO project verified, certified vegan, dairy-free and made with plant protein. They are Asian Style Chick'n Fried Rice, Chick'n Fiesta, Chick'n Florentino and Italian Style Rigatoni n' Saus'age.
Andy Judd, vice president of marketing at Pinnacle's Boulder Brands subsidiary, said: "Consumers today want healthier, sustainable options that fit into their busy schedules. As the very first multi-serve meals available in the frozen meatless category, our new Skillet Meals are outrageously delicious and can be prepared in minutes, making meal time a rewarding experience no matter how brief."
The Gardein range is available at more than 23,000 retail locations across North America.
GreenSpace Brands unveils Meatbar range of meat snacks
Canadian natural food manufacturer GreenSpace Brands has launched Meatbar, which it claims is the first meat snack in its domestic market available in a bar format.

It is being launched in three flavours – Sriracha, Sweet & Savory, and Original.
Meatbar features grass-fed meats with spices, nuts and seeds and, GreenSpace suggests, feeds well into the macro trends of high protein, simple ingredients and convenience snacking.
Matthew von Teichman, CEO of GreenSpace Brands, said: "The launch of Meatbar is a significant event for GreenSpace in that it reaffirms our commitment to launching brands from the ground up, We have long been thinking about the convenience meat snacking category and have been working on this project for a considerable amount of time, ensuring we have the best product in the market."
Meatbar began to roll out to stores in early April and will steadily gain distribution across the country over the next six months, GreenSpace said.
Kraft Heinz teams up with Food Network in cooking sauces, meal kits
Kraft Heinz and US-based Food Network are teaming up to produce a range of globally inspired salad dressings, cooking sauces and meal kits.
The products will be marketed as Food Network Kitchen Inspirations and marks the first-ever grocery line from Food Network, a lifestyle broadcaster, website and magazine owned by Discovery Inc.
Liz Rubin, senior associate brand manager for meals at Kraft Heinz, said. "This opportunity is especially exciting for us because the new Food Network Kitchen Inspirations products make it easy for people to expand beyond their culinary comfort zones and try new flavours."
Both the salad dressings and cooking sauces will sell at a suggested retail price of US$3.49, while the meal kits designed for two people will be priced at $3.49 and $4.99 for four people.
UK baby food firm Piccolo launches snacks range
Piccolo, the UK baby food business, is expanding its offering with Piccolo Squares, a new range of snacks launching in Sainsbury's in May.
Wafers made from a blend of three ancient grains and chickpeas, Piccolo Squares will be available in mango and coconut flavours, which, the London-based company suggests, will help develop babies' taste buds.
Piccolo said its first snack range is suitable for babies being introduced to their first textures to toddlers needing a healthy snack between meal times. They can also be an aid for teething babies needing something to gum, it suggests.
Cat Gazzoli, Piccolo's founder, said: "We know, from our own experience as parents and from speaking to Piccolo shoppers, that there has been a real gap in the market for a snack that is nutritious and tasty with no added sugars or fruit juice."
Piccolo Squares have a RRP of GBP2.49 (US$3.47) for a 50g bag.
Mondelez combines sweet and savoury in Dairylea Snackers
Mondelez International has combined sweet and savoury for the first time, linking its Dairylea snacking cheese and Oreo cookie brands in the UK.
Its new Dairylea Snackers Mini Oreo and Dairylea Snackers Mini Chocolate Cookies are on-the-go snack-packs containing Dairylea cheese, crackers and cookie bites.
The range additions will be supported by a GBP1.3m (US$1.8m) brand marketing campaign.
Rebecca Prout, senior brand manager for Dairylea, said: "Innovation in snacking kits is a clear growth opportunity as the UK snacks market is worth GBP41.6 bn and, with a growth rate of 3.7%, is out-performing the rest of the food and beverage market.
"We believe that combining Dairylea cheese with two popular biscuit flavours,will help unlock further sales in savoury snacking."
The products have a RRP of GBP1.65.
Nestle launches Maggi Creations meal kits in Sri Lanka
Nestle has launched the first-ever noodle meal kits in Sri Lanka – Maggi Creations.
The kits designed for two people come with a pack of noodles, a seasoning mix of spices and vegetables, and a spicy sauce to make the popular dishes Nasi-goreng and Biriyani.
Maggi's new product offering is part of its 'Simply Good' initiative to inspire and offer tastier and more nutritious food choices, and encourage more home-cooking among the younger generation.
Charlie Bigham's unveils grains-based range
UK pre-prepared meals brand Charlie Bigham's has launched a new range of grains-based meals for two.
The Somerset-based company, founded in 1996, suggests the range is perfect for those wanting to have a more varied diet, but who don't always have the time or desire to prepare meals from scratch.
Chicken Katsu Curry and Salmon Teriyaki are amongst the new recipes, as well as vegetarian options such as Cauliflower & Paneer Curry and Roasted Aubergine & Halloumi – with Butter Beans in a Tomato Sauce & Bulgur Wheat.
Company founder Charlie Bigham said: "Our new recipes combine delicious grains with some punchy flavours and popular superfoods. They are a tasty option for those wanting to eat flavoursome food, with less hassle. Like all our dishes, these new grains-based recipes are prepared with pride in my kitchen and cooked with ease in your oven at home."
The products, which have a RRP of GBP8.50, will be available on Ocado and from selected Waitrose stores from Wednesday (25 April) and from Tesco stores from 21 May.
Danone launches travel-inspired 'Les Danone du Monde' yogurts
French dairy giant Danone is launching a new range of yogurts in Italy and its domestic market inspired by traditional variations around the world.
'Danone of the World' or 'Les Danone du Monde' are offered in five traditional recipes using 100% French milk.
Skyr – A type of yogurt native to Iceland comes in 140-gram pots, contains 10g of protein per 100g, and is priced at EUR1.79 (US$2.18) for a pack of two
Laban – native to Lebanon comes in 250g-pots, with 3g of fat/100g, 3.3g of protein/100g, and priced at EUR2.69 for a pack of two
Ayran – native to Turkey comes in 250g-pots, with 1.5g of fat/100g, 2.4g of protein/100g, and priced at EUR2.69 for a pack of two
Lasse – native to India comes in 250g-pots, with 1.5g of fat/100g, 2.4g of protein/100g, and priced at EUR2.69 for a pack of two
Straggisto – native to Greece comes in 140g-pots, with 5g of fat/100g, 8.6g of protein/100g, and priced at EUR1.79 for a pack of two
Cereal Partners adds on-the-go breakfast bar to Lion Cereals range
Cereal Partners Worldwide, a joint venture between Nestle and General Mills, is adding an on-the-go breakfast bar to its Lion Cereals range in Germany.
The Lion Breakfast Cereal Bar "meets the characteristic taste of chocolate and caramel of the popular cereal brand" and launches this month at a recommended retail price of EUR1.49 (US$1.82).
Containing 32% whole grains and no artificial colours or preservatives, the bars come in a single pack of four with each weighing in at 25 grams.
Cereal Partners said the new bars complement the Kids range of Nestle cereal bars and will be located on the supermarket aisle next to the existing Nesquik range.

No Dough Pizza Co introduces cauliflower-based pizza
UK-based No Dough Pizza Co has launched what it says is the world's first cauliflower-based pizza giving consumers a low-carbohydrate alternative to traditional bases.
Also gluten-free, the new pizzas will arrive in Sainsbury's and Asda this month.
In a statement promoting the launch, the company run by Philip Pinnell and Daniel Litchfield, said: "Using an innovative process, they [No Dough Pizza] have cracked how to make a pizza base containing over 70% cauliflower, resulting in a meal that is less calorific and has lower carbs than the traditional pizza."
Sainsbury's will be stocking the ham and mushroom and vegan Margherita versions, while Asda will carry pepperoni as well as a standard Margherita recipe.
Pinnell, who is the managing director, said: "We have been perfecting this recipe for quite some time and are now more than excited to announce the launch of No Dough in not just one, but three different supermarkets, across hundreds of stores throughout the UK.
"Our mission is to make great, healthy food accessible for everyone to enjoy."