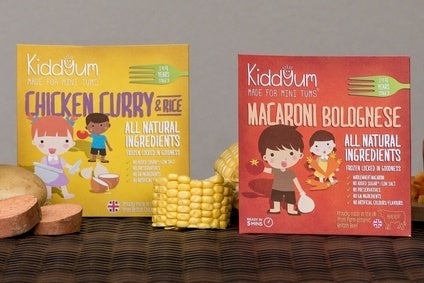 UK supermarket Sainsbury's has introduced a new frozen kids meal range under the Kiddyum brand.
The brand – created for babies and younger children – will be available in the frozen ready meal aisles of 320 Sainsbury's stores from 9 August.
Meals include Cheesy Peasy Pasta, Macaroni Bolognese, Cottage Pie, Fish & Veg Pie and Chicken Curry. They are free of added sugar and salts, preservatives, artificial colours and flavours and GM ingredients.
The brand was created by Jane Hynes and won the 2013 Start-Up Britain's 'Pitch-Up with Sainsbury's' initiative where UK food start-ups were invited to pitch products and business plan to the retailer in a bid to secure a contract.
Hynes said: "Consumer confidence in the quality of frozen meals and their understanding of the nutritional benefits of freezing is on the rise, and this has led to a new market of parents who are looking to the freezer for convenient, nutritious and tasty frozen meal options for their children. The Kiddyum brand is committed to offering parents a genuine alternative to home-cooking."
Kiddyum will be available at an RRP of GBP2.20.