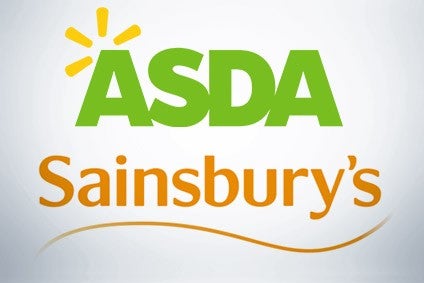 UK 'big four' retailer Sainsbury's has confirmed it is to merge with rival Asda – currently owned by US retail giant Walmart – in a deal which will make the merged business the UK's largest supermarket group.
But as the deal would give the new entity a market share of more than 30% it is likely to be scrutinised by the UK's Competition and Markets Authority.
In a statement issued this morning (30 April) Sainsbury's said that it has agreed terms with Walmart which will receive GBP2.97bn (US$4.08bn) for a controlling stake in its UK supermarket subsidiary in a deal which values Asda at GBP7.3bn.
Walmart will retain 42% of the share capital of the merged business which will have combined revenues of c.GBP51bn for 2017.
Sainsbury's said the merged entity – which will create a network of more than 2,800 Sainsbury's, Asda and Argos stores – will "create a dynamic new player in UK retail with an outstanding breadth of products, delivered through multiple channels".
It added: "Enhanced scale and a strengthened balance sheet will deliver a great deal for customers, colleagues, suppliers and shareholders of both businesses.
"The retail sector is going through significant and rapid change, as customer shopping habits continue to evolve. This has led to increased competition across grocery, general merchandise and clothing, as customers seek ever greater value, choice and convenience. Bringing Sainsbury's and Asda together will result in a more competitive and more resilient business that will be better able to invest in price, quality, range and the technology to create more flexible ways for customers to shop."
It said both the Sainsbury's and Asda brands will be maintained but said operational efficiencies and investment means it expects to lower prices by c.10% on many of the products customers buy regularly.
It added that there are no planned Sainsbury's or Asda store closures as a result of the deal and nor does it expect there to be job losses.
Sainsbury's suggested the deal will create "significant opportunities" for suppliers to develop differentiated product ranges, become more streamlined and to grow their businesses as the combined business grows
The combined business will be chaired by the Sainsbury's chairman and led by the Sainsbury's CEO and CFO. Asda will continue to be run from Leeds with its own CEO, who will join the group operating board of the merged company.
Mike Coupe, chief executive officer of Sainsbury's, said: "This is a transformational opportunity to create a new force in UK retail, which will be more competitive and give customers more of what they want now and in the future.
"It will create a business that is more dynamic, more adaptable, more resilient and an even bigger contributor to the UK economy."
Roger Burnley, chief executive officer of Asda, said: "The combination of Asda and Sainsbury's into a single retailing group will be great news for Asda customers, allowing us to deliver even lower prices in store and even greater choice.
"Asda will continue to be Asda, but by coming together with Sainsbury's, supported by Walmart, we can further accelerate our existing strategy and make our offer even more compelling and competitive.
Judith McKenna, president and chief executive officer of Walmart International, said: "This proposed merger represents a unique and bold opportunity, consistent with our strategy of looking for new ways to drive international growth.
"Asda became part of Walmart nearly 20 years ago, and it is a great business and an important part of our portfolio, acting as a source of best practices, new ideas and talent for Walmart businesses around the world.
"We believe this combination will create a dynamic new retail player better positioned for even more success in a fast-changing and competitive UK market.
Sainbury's is currently the second largest supermarket group with a 15.8% market share while Asda is in third place at 15.6%. Tesco is currently in first place with a 27.6% market share.