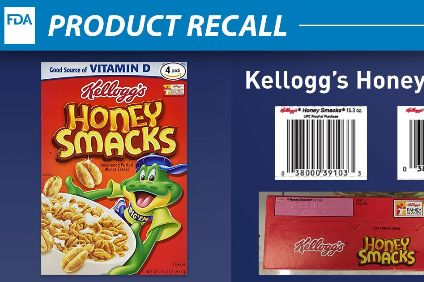 Kellogg's Honey Smacks cereal, which has been linked to an outbreak of salmonella in the US, is still on sale despite a recall, the country's Food and Drug Administration has said.
The FDA said yesterday (12 July) it had "become aware" the cereal was still on store shelves despite being recalled last month amid a multi-state outbreak of salmonella mbandaka infections.
"Retailers cannot legally offer the cereal for sale and consumers should not purchase Kellogg's Honey Smacks cereal. The FDA has learned that some retailers are still selling this product. The FDA will continue to monitor this situation closely and follow up with retailers as we become aware of recalled products being offered for sale," the regulator said.
According to the US Centers for Disease Control and Prevention, 100 people in 33 states have become ill. There have been 30 hospitalisations and no deaths.
The recalled products were distributed across the US – including Guam and Saipan – as well as internationally in certain Central American and Caribbean markets.
Kellogg has reportedly launched an investigation with the third-party manufacturer that produces the cereal to learn more about how the product came into contact with the bacteria.