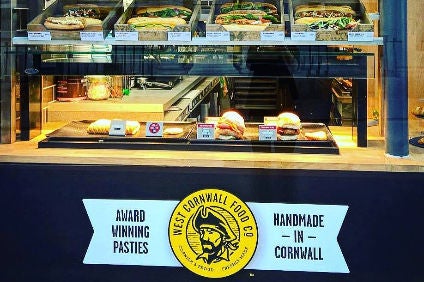 Samworth Brothers, the UK food group that counts Cornish pasty brand Ginsters in its range, has acquired West Cornwall Pasty Co., a UK food-to-go retail chain specialising in making and selling pasties.
The deal, announced today (3 January) for an undisclosed sum, sees Samworth Brothers buy West Cornwall Pasty Co. from private-equity firm Endless.
West Cornwall Pasty Co. has 33 wholly-owned outlets in UK rail stations and on the country's high streets. The business has 19 franchised stores in Moto service stations.
Alex Knight, Samworth Brothers' chief executive, said: "Samworth Brothers already has a considerable experience and presence in both the food-to-go and savoury pastry market through our existing brands and own-label operations. We see the hot food-to-go sector as one area of real opportunity. This acquisition provides a great extension to our hot food-to-go capabilities and gives us another outstanding platform to develop our offer in this area."
Endless acquired West Cornwall Pasty Co. out of administration in 2014. The most recent publicly-available accounts for West Cornwall Pasty Co. show the business made a turnover of GBP13m (US$15.9m) in the year to end of 25 March 2016, up from GBP12.5m a year earlier. The accounts, filed at Companies House, show the retailer's like-for-like sales rose 7.6% during the year, with customer numbers and the average transaction value up.
West Cornwall Pasty Co. provided a figure for EBITDA before exceptional costs and impairment of tangible fixed assets of GBP1m, which compared to GBP550,000 the previous year.
The business generated a net profit of GBP380,811, versus a net loss of GBP237,729 a year earlier.
The report also states the company had seen "double-digit" like-for-like sales growth in the first quarter of the following financial year, which will come to an end this March.
Samworth Brothers' acquisition of West Cornwall Pasty Co. is the second since Knight took charge of the business at the start of 2016.
In August, Samworth Brothers snapped up Tesco's former Euphorium bakery plant in Weybridge after the retail giant decided to sell the Euphorium business.