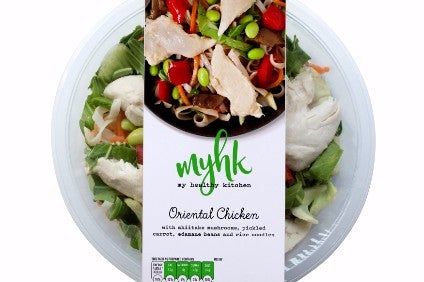 A new range of ready meals from Samworth Brothers targeting health-conscious consumers in the UK has just been listed in Ocado, and next week will hit the shelves in Waitrose stores nationwide.
Samworth claims its My Healthy Kitchen brand is bringing "a fresh approach to the classic ready meal", in which wholesome, fresh ingredients used in internationally inspired recipes will create ready meals in under four minutes for health conscious, timetime-pressedsumers.
Each meal comes in at under 500 calories, and contains at least one of several health benefits, including being low in sugar, fat, or saturated fat, being a source of protein or fibre or being one or more of the government's recommended five a day fruit and vegetables.
The range was initially launched via Amazon Fresh in February this year, is now available at Ocado, and will be listed nationwide in Waitrose from May 15th.
"My healthy kitchen is an exciting new brand development in a growing category," said Alastair Johns, Samworth Brothers' brand and business development manager. "There's a continuing consumer movement towards healthier products, and my healthy kitchen is an innovation that closely follows the trend."
Johns said he believes the brand has "a lot of potential", and is being launched with six skus, though the the company has big plans for the brand, promising to deliver "new, exciting products at pace."
My Healthy Kitchen meals have an RRP of GBP3.95, and include meals such as Moroccan Chicken, Roasted Mediterranean Vegetable Risotto and Prawn Katsu. The range also offers vegetarian, vegan and dairy-free options.
Asked if Samworth is in talks with the country's four largest grocers, a spokesperson said: "My Healthy Kitchen will be looking at targeting other retailers over the next year with a view to gaining wider distribution."