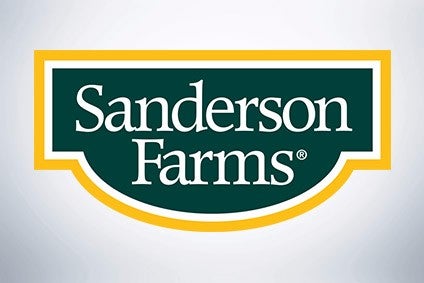 Sanderson Farms, the US-based poultry firm that has had 15 positive Covid-19 cases, has lowered its production estimate for the year as the virus wrecks havoc on its mainstay foodservice business.
The third-largest poultry processor in US expects total output to increase 4.9%, compared to a forecast of 7.6% put forward in February, as restaurants, hotels and cinemas shut their doors to help contain the virus.
While Nasdaq-listed Sanderson Farms is present in retail too, its foodservice sector accounts for 65% of the overall business, which generated US$3.4bn in sales last year.
Chief executive Joe Sanderson Jr. put the situation in foodservice into context yesterday (2 April) as he addressed analysts on a conference call. Quoting data from the National Restaurant Association in the US, he said the sector has lost $45bn in sales in the last week alone, representing a decline of 50% since 1 March. And around three million employees have been laid off.
"When we look at our foodservice business, it's a different environment," Mr Sanderson said. "The demand is not there, but it'll come back when this virus disappears. But for now there's is just no marketplace."
Because of the drop off in demand from foodservice, Sanderson Farms is left with excess inventory of 'big birds' usually supplied to that sector, and is trying, where possible, to redirect those into retail in different tray-pack formats.
The company has been "overwhelmed" by the Covid-19-led growth into retail, Mr Sanderson added, and all its plants are still functioning normally as it is classed as an essential business.
However, Sanderson Farms has been hit quite hard by coronavirus. As well as the 15 employees who have tested positive – they are currently in self-isolation on full pay – it also has another 36 who have showed symptoms and are awaiting test results. A total of 204 staff, as of Wednesday night, are under quarantine, Mr Sanderson confirmed.
Under the existing scenario, the company is having to sway its production mix to tray-pack, but expects total output to continue to slow in the next two quarters through to the year-end on 31 October.
In February, Sanderson Farms predicted it would produce 1.23 billion pounds of product in the current second quarter, consisting of 767m pounds of big chickens, or 62% of its mix, and 467m pounds of tray-pack birds, or 37.8%. That target is still on the cards.
However, previous assumptions for the third quarter have been amended from 1.29bn pounds to 1.22bn, representing a 3.1% cut in production of big birds. In the fourth quarter, the target is now 1.27bn pounds from around 1.21bn.