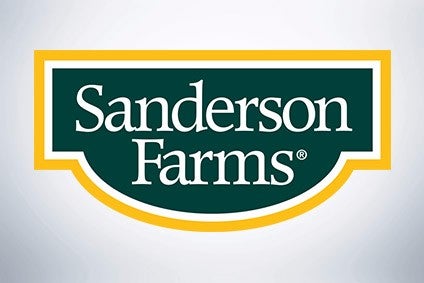 US poultry processor Sanderson Farms today (25 May) booked increased first-half sales and income, boosted by higher retail sales and improved exports.
Net sales for the six months to the end of April were US$1.49bn versus $1.29bn for the same period of fiscal 2016.
Net income was $90.1m compared to $58.3m in the year-ago period. Sanderson's first-half operating income was $103.1m, against $73.8m a year earlier.
Focusing on Sanderson's results in its second quarter – in which its sales and earnings also rose – chairman and CEO Joe Sanderson Jr said the company had been helped by benign feed costs, "continued favourable demand for poultry products from retail grocery store customers, higher volume, and an improving export environment".
"Our sales price per pound increased during the first half of this fiscal year compared with last year as market prices improved steadily through the second fiscal quarter," Mr Sanderson said. "Poultry export market fundamentals improved, market demand for wings improved counter-seasonally and market prices for boneless breast meat improved significantly during the second half of April and have continued to move higher into May."
In addition to higher sales prices, Sanderson said net sales for the second quarter of $802m – versus $692.1m previously – "also reflect more pounds sold". Poultry pounds sold increased 11.5% during the quarter compared to last year's second quarter, the company said.
Sanderson said the company's new facility in Palestine, Texas, is "running at full capacity and our St. Pauls, North Carolina, plant will reach 50% capacity next month".
Sanderson said production during the third and fourth fiscal quarters of 2017 is set to be up 13.6% and 11.7% respectively over the year-ago fiscal quarters, reflecting the new production at the plants, plus additional processing as a result of a fresh agreement with US poultry peer House of Raeford Farms.
In addition, grain prices are expected to remain "relatively benign" for the second half of the fiscal year, Sanderson said.