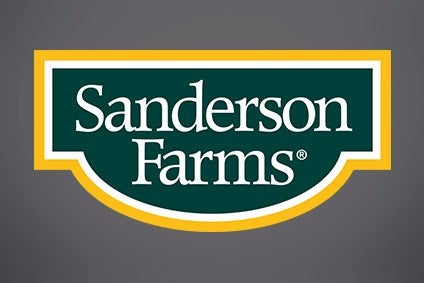 US poultry supplier Sanderson Farms is looking at setting up a new production facility in Texas and has earmarked two alternative locations for the site.
Sanderson Farms said it has chosen sites in Smith and Wood Counties for the new feed mill, hatchery, poultry processing plant and waste water treatment facility.
Construction is subject to the completion of tax abatement and incentive agreements with the state of Texas and obtaining final permits, the company said.
However, it has drawn up plans to invest around US$200m in the new facility and expects contract growers will invest a further $135m in poultry production facilities. Sanderson Farms expects to start construction this summer, with the facility's initial operations slated to begin during the first fiscal quarter of 2019.
"We believe this expansion will enhance our ability to drive revenues and earnings and allow us to continue our record of building long-term value for our shareholders," Sanderson Farms chairman and CEO Joe Sanderson Jr. said. "The additional capacity of 1.25m birds per week represented by the new complex will provide new marketing opportunities for the company for retail grocery customers."
In January, Sanderson Farms opened a plant in St Pauls in North Carolina to serve the foodservice sector. One foodservice customer – Sysco – accounts for 40% of Sanderson Farms' group revenue, which in the year to the end of October amounted to $2.82bn, up slightly on the $2.8bn generated a year earlier.
Sanderson Farms CFO Mike Cockrell on US poultry prices, benchmarking, Trump and Mexico – the just-food interview, published in February 2017