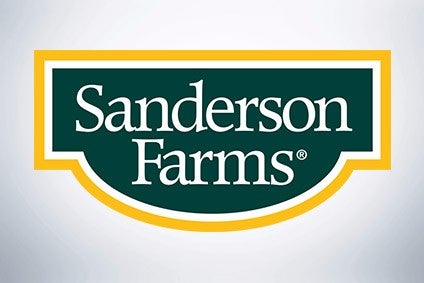 Sanderson Farms, the third-largest poultry group in the US, has revealed its orders through the foodservice channel are at two-thirds the level seen before Covid-19 hit that part of its business.
Sales to foodservice customers are the mainstay of Sanderson Farms, the number three poultry processor in the US by sales, behind only Tyson Foods and Pilgrim's Pride.
"Even though foodservice orders are back, we're in about two thirds of normal. What is not there in foodservice are schools, hotels, and places like that … and then what restaurants are open they open at 50%," Joe Sanderson Jr., the company's chairman and CEO, said.
Speaking yesterday (18 May) at the Goldman Sachs Global Staples Forum, held virtually, Mr Sanderson said retail demand had been "excellent", citing three reasons. "One is there's a shortage of red meat in the grocery stores. Two, there's a shortage of chicken in the grocery stores and, three, grilling season is upon us."
The US meat sector, particularly processors of red meat, has seen production disrupted amid outbreaks of Covid-19 infection among staff. Sanderson Farms has had more than 300 staff test positive for the novel coronavirus but Mr Sanderson said the company had been able to "get all of our chickens processed and pretty much our product mix is intact".
Last month, Sanderson Farms lowered its production estimate for the year, forecasting total output would increase 4.9%, compared to an estimate of 7.6% put forward in February, as the foodservice sector largely shut down.
"We've had about 325, 330 Covid cases out of 18,000 employees and probably 40% of those have come back to work," Mr Sanderson said, noting, at present, between 100 and 125 employees are off work ill. "If we have an employee that's sick, we'd normally send two to five people that work in close proximity to that infected employee, we send them home with pay for two weeks to try to avoid an outbreak in our plant," he added.
Asked if Sanderson Farms expected there to be lasting shifts in the shape of poultry production across the US, the company's chief executive said he "would not be surprised" if some processors convert sites currently set up for "big bird" production. Larger-sized birds are primarily processed for foodservice customers.
"We have looked at some repurposing in the company and we will continue to do that. That is not something I like very much. Our plans are set up specifically, and designed engineered for what they are. But we are looking at that," he said.
"We understand there's some other companies contemplating leaving big-bird [production] going to another market segment. It would not surprise me at all if some of these big-bird plants left the deboning market segment and moved to another market segment. If you look down the road, and listen to what people say about 100-150,000 restaurants going to close and perhaps that market segment shrinks, I wouldn't be surprised if there are some plants that convert."
On the near-term prospects for demand among foodservice customers, Mr Sanderson described the outlook as "choppy". He explained: "You just have half the restaurant [open] at one time. The third largest group in that foodservice segment is hotel restaurants. None of those are hardly open at all. None of the buffets are doing anything."
Mr Sanderson also had a note of caution for the prospects of "white table cloth" restaurants currently closed.
"And all the white table cloths [restaurants] – that can't go on very much longer. That financial model will not work for restaurants, for sit-down restaurants. For quick-serves, who have dine-in, carry out, drive-thru, and delivery, they can do it. But you cannot do that in a restaurant."