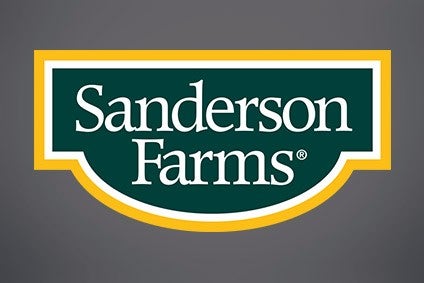 Sanderson Farms, the US poultry processor, has reported higher first-quarter earnings amid a rise in sales driven by better prices for dark meat.
In the quarter to 31 January, the company's net income reached US$23.2m, more than double the $10.7m it generated a year earlier. Operating income stood at $35.6m, up sharply from the $19.8m filed in last year's first quarter.
Sanderson Farms' net sales climbed 13.7% to $688.3m.
"Our results for the first quarter reflect improved market prices for dark meat products sold from our big bird deboning plants compared with last year's first quarter," chairman and CEO Joe Sanderson, Jr. said. "Leg quarter prices during last year's first fiscal quarter reflected avian influenza-related bans on United States poultry products by many of our export partners, which bans, except for China, have been lifted."
Mr. Sanderson said the company had continued to see muted conditions in the foodservice channel. Some 40% of Sanderson Farms' business is through US foodservice giant Sysco.
"Poultry market prices for our tray pack products sold to retail grocery store customers were only slightly lower when compared with the same period a year ago. On the other hand, the foodservice market remains weak. Traffic numbers through all categories of foodservice continue to trend lower, and market prices for boneless breast meat reflect that weakness. Demand and prices for jumbo wings were seasonally strong during the quarter."
Earlier this week, just-food ran a two-part interview with Sanderson Farms CFO Mike Cockrell, in which he discussed the company's antibiotics strategy, market conditions, recent investment and concerns over President Trump's possible trade policies.