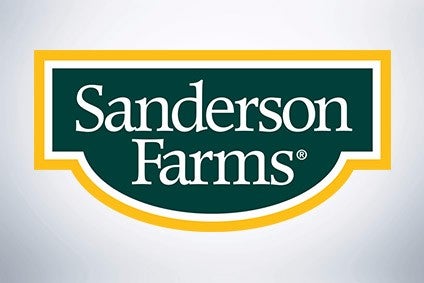 US chicken processor Sanderson Farms said poultry prices in the market strengthened in the final quarter of its financial year as it delivered lower annual earnings today (15 December).
The company revealed an increase in pricing during the three months to the end of October helped offset declining prices over the year as a whole.
CEO Joe Sanderson said: "Market conditions strengthened at the beginning of our fourth fiscal quarter of 2016, although market prices declined seasonally after Labor Day. We reported record annual sales despite a decline in overall poultry market prices compared with fiscal 2015, which decline was especially pronounced during the first half of the year."
For the year, Sanderson revealed sales rose to US$2.82bn versus $2.8bn in the prior year. Growth was supported by a 16.3% increase in fourth-quarter revenue, which rose to $790.8m.
The company did, however, see a decrease in operating profit which fell to $294.1m from $366m in 2015. Net profit was also lower, dropping to $189m from $216m last year.
Sanderson stressed during the period the company invested in expanding capacity and strengthening its balance sheet. The group is investing in a $139m poultry complex in North Carolina.
"We are pleased that our profitability during fiscal 2016 allowed us to fund our planned expansion in St. Pauls, North Carolina, strengthen our balance sheet, and reward our shareholders with a special dividend," he continued. "We are well-positioned to continue our growth strategy as we prepare to begin production at our newest complex in St. Pauls in January. The pounds produced at St. Pauls, at full production, will represent a 12% increase in our capacity."