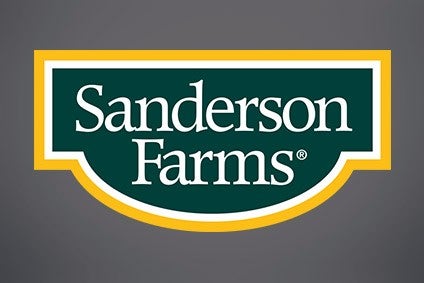 US poultry company Sanderson Farms plans to more than double capital expenditure next year as it invests in new plants and equipment to ramp up production.
Sanderson reported "record" annual sales of US$3.3bn for fiscal 2017 yesterday (14 December), an increase of 18.6% from a year earlier, and attributed the rise to higher volumes and prices. The third-largest poultry processor in the US said net income surged 48% to $279.8m.
During a follow-up conference call, chief financial officer Mike Cockrell predicted spending on construction, maintenance and "special projects" will increase to approximately US$344.4m next year, from $166.8m in the 12 months ended on 31 October.
The company started work on a new plant this year at Tyler, Texas, and said in March, when it announced the plans, that the facility would begin initial operations in the first quarter of 2019. The investment followed on the heels of a new factory at St. Pauls, North Carolina, which opened in January, with production projected to reach full capacity early in 2018.
Of the spending slated for fiscal 2018, Cockrell said the Tyler facility will absorb $178m of the total expenditure. Another $4.2m will go toward completing the expansion of its prepared chicken plant, he added on the call, without providing specific details. From the remainder, $32.2m will be "paid on new aircraft", and $37.3m will be spent on equipment upgrades at various processing plants.
Funding will come from Sanderson's own cash, internally-generated working capital, cash from operations, and, "as needed", its revolving credit facility, the CFO said. That facility amounts to $900m, of which $880m was available at the end of the year, he added.
On the same call, chief executive Joe Sanderson Jr. said: "We will focus our efforts on getting St. Pauls to full production, continuing the construction at Tyler, and capturing the significant opportunities in our operations.
"While our overall performance during 2017 was good and performance in some places was very good, we have identified significant opportunities in our operation in areas where we underperformed in fiscal 2017."
Addressing a question on where the underperformance lay, CFO Cockrell said: "We got places where we underperformed, as Joe said in his prepared remarks and we'll go hard after that, but we don't quantify."
When asked to provide more detail on when the new factories will become operational, Sanderson flagged 2019 as being the most likely or 2020.
Mr Sanderson reflected on investment projects being carried out by some of the company's peers in the US poultry sector.
The House of Raeford's new plant "may start coming on" at the end of 2018, he noted.
"In the big bird category, you have House of Raeford, you have Wayne Farms and their expansion in Alabama," Mr Sanderson said, adding a brief mention of Mountaire in Siler City.
"If you add all of that – and this includes Peco in Arkansas and Sanderson in St. Pauls – that is 3.6% new big bird head and 5.3% new big bird pounds," he said, most of which will be realised by 2020.
"We are committed to continue our growth beyond Tyler, and we're ready for it," Mr Sanderson said. "No matter the market conditions, we will continue to focus on those things we can control, and manage the others as best as we can."