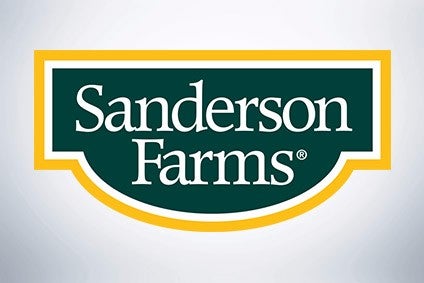 Sanderson Farms reported a steep drop in sales and profits today (25 February), warning of a "significantly weaker" market for US poultry products.
The company revealed net sales for the first quarter of fiscal 2016 were US$605.2m compared with $667.4m for the same period a year ago.
According to Sanderson, overall market prices for poultry products were lower during the first quarter compared with the same period last year, with deboned chicken prices falling by more than one-fifth.
"Our results for the first quarter reflect significantly weaker market prices for products sold from our big bird deboning plants compared with last year's first quarter," said Joe Sanderson, Jr., chairman and chief executive officer.
While prices for retail tray packs were only "slightly lower" on the year, Sanderson flagged issues impacting the foodservice channel. "The foodservice market is over supplied, primarily as a result of continued weak export demand. Poultry products that would normally be directed for sale in the export markets are instead being sold in the domestic food service market. While conditions improved in January, headwinds remain in the export market even though most avian-influenza related bans on United States poultry products have been lifted. Currency issues, political issues and weak oil prices remain," he warned.
The company's bottom line was also impacted by a higher effective tax rate. Operating income plunged to $19.8m versus $103m in the comparable period of last year. Net income fell to $10.7m from $66.5m in the first quarter of last year.