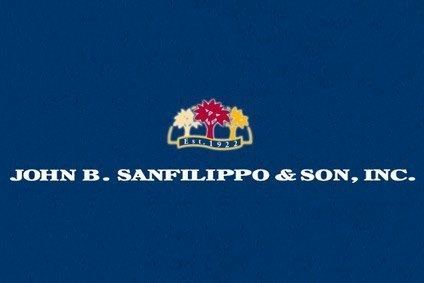 Fisher Nuts maker John B. Sanfilippo & Son has reported a jump in sales and profits for the first quarter of its financial year.
Net income for the period to 24 September rose 35% to US$8m for the period ended 24 September while operating income increased from $12m to $13.7m.
Net sales grew 10% to $225.8m as a result of higher selling prices for most major nut types due to higher commodity acquisition costs.
"In respect to net income and diluted earnings per share, operating results for the current first quarter mark the third consecutive quarter where we have reported record earnings," stated Jeffrey Sanfilippo, CEO. "Despite significant sales volume challenges for almonds due to high retail prices, we were able to maintain overall sales volume in the quarterly comparison primarily as a result of strong volume performance in our contract packaging distribution channel.
"Sales volume gains for Fisher Nut Exactly snack bites and Orchard Valley Harvest and Sunshine Country produce products also made meaningful contributions in offsetting the decline in sales volume for almonds," he added.
Looking ahead to the rest of the group's financial year, Mr Sanfilippo said: "Retail consumers appear to be reacting negatively to high almond prices. We anticipate that sales volume declines for almonds will continue for the remainder of fiscal 2016 due to such historically high almond prices. To counter this trend, we will continue to focus on growing our brands and increasing our sales volume with existing key customers."