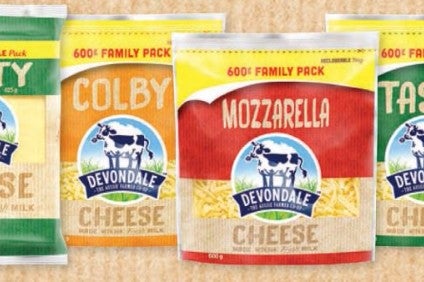 Canadian dairy business Saputo has given an insight into its plans to improve the fortunes of Murray Goulburn, the Australian dairy cooperative it struck a deal to buy last week for CAD1.29bn (US$1.01bn).
In a call with analysts following the publication of its half year financial results yesterday (2 November), Saputo CEO Lino Saputo Jr admitted the loss-making Australian business is "currently in a distressed situation" but said "we believe Murray Goulburn can come back to historical levels of profitability".
Saputo announced its deal to buy Murray Goulburn last Friday. The transaction, which is subject to the approval of the co-op's shareholders and Australia's competition watchdog, is expected to be finalised in the first half of 2018.
Saputo Jr revealed he and other senior executives from Montreal-based Saputo will be visiting Australia for two weeks and plan to hold as many as 15 'town hall' meetings with dairy farmers to try and convince them to work with Murray Goulburn.
"The potential for us to capture some of the volumes lost by Murray Goulburn is good," he said.
Saputo entered Australia three years ago with its acquisition of Warrnambool Cheese & Butter Factory and Saputo Jr said: "In the three years we've been operating in Australia, we've gained a lot of goodwill with dairy farmers."
He said part of Saputo's plan for Devondale owner Murray Goulburn is to produce more higher-margin products which will allow it to pay a higher price to farmers for their milk.
"Murray Goulburn has a wide range of products and one of the disadvantages with the loss of milk is that a good portion of that has to go to low profit products," he said.
"If we get more milk we can get back to high margin products and if we are in these products we can afford to pay leading prices for milk, something Murray Goulburn wasn't able to do."
Saputo Jr said it is "unlikely" Murray Goulburn will be able to match its peak collection level of 3.5bn litres of milk annually because of increased competition from new entrants.
But he said it is hoped annual volumes could increase from the current 1.7bn to 1.9bn litres to "somewhere between 2bn and 3.5bn".