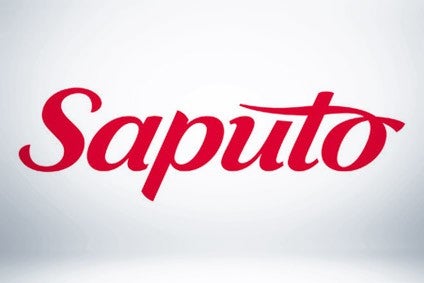 Saputo said it will take another "couple of quarters" before the Canada-based dairy firm's foodservice business returns to pre-coronavirus levels as its chief executive noted how he is open to acquisitions in the sector.
While CEO Lino Saputo Jr. had pointed to Covid-19 creating M&A opportunities back in March, when the crisis had prompted the company to divert some foodservice products into the retail channel amid government lockdowns, he provided more colour yesterday (4 June) on the type of deals he may pursue.
Cheese, dairy powders and "by-products" offer options, along with the plant-based category, but not yogurt or ice cream, the CEO told analysts after reporting fourth-quarter and annual results, with consolidated revenues up 14.9% in the final three months of its fiscal year, "mainly related to the contribution of recent acquisitions".
Adjusted EBITDA for the quarter was up 8.5%, but adjusted net earnings fell 21.5%.
"If there is a great opportunity for us in foodservice and ingredients we would certainly take a look at that, but in some geographies I would like to perhaps consider some diversification out of those categories and into some retail," Saputo Jr. told analysts. "If there is an opportunity for us to buy a brand in plant-based that is also something that is part of our scope of strategic targets for acquisitions."
He noted how some of Saputo's competitors were struggling due to fragility in their balance sheets and high leverage, and consequently some of those businesses are "coming on the market".
"Once those companies realise it, they may have to put the whole thing – lock, stock, and barrel – for sale," he said. "And we are in a fantastic position to wait on the sidelines and wait for the right opportunity to come along at the right price for the right strategic orientation for our business."
Saputo said retail demand is starting to "normalise" from the pantry-loading and change in consumer patterns seen at the height of the crisis as more people ate at home, but it is a different story for foodservice.
"So we're still seeing a lift [in retail] and we anticipate that that lift will start to come down as we start to normalise, and then we'll see foodservice continue to recover as we move forward," the CEO commented.
Finance chief Maxime Therrien added with respect to foodservice, which the CEO said was down around 60% because of Covid-19: "What we're reading, what we're observing is, that it will take more than a couple of quarters to get back to normal."
COO Kai Bockmann expanded: "Right now, we're seeing foodservice operators kind of restocking the pipeline, so this isn't the new normal yet. We're going to have to wait to see over the coming weeks and the coming months what they may look like. And we can't forget that when you talk about risk, if there's going to be a second Covid wave that's obviously going to have a huge impact, probably worse than the first wave.
"And there's also some data that point to some foodservice operators that haven't been able to adjust. Potentially, up to a third of those foodservice operations could close permanently. So that's something that is also on our minds."
Saputo also does not expect the positive benefit on EBITDA from retail to offset the decline in foodservice, which Saputo Jr. said is likely to remain in the doldrums until a vaccine is found.
"Until there is a vaccine I don't think we will get back to much normalcy at all," the CEO emphasised.
Despite the varying performance across the dairy segments, Saputo Jr. said he is still "bullish" about growth in the sector, although the elevated demand for fresh milk seen during the crisis is unlikely to be sustained, and therefore he has an element of reluctance to expand in the category in terms of M&A.
"Fluid milk is one that I don't have a whole lot of desire to expand our presence in geographically, but if there's an opportunity for us to take on new customers that are profitable for us we would be more than happy to do that as well," the CEO said. "The pipeline is full with opportunities."