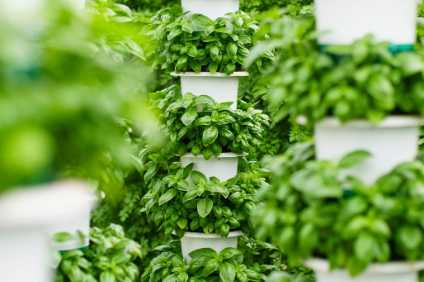 Saturn Bioponics, a UK-based vertical-farming technology business, is about to enter the Middle East with plans to build a farm in Oman next year.
Headquartered in the city of Birmingham, Saturn is already present in France, Romania and Japan, and along with Oman, the company is also planning to set up a hydroponic vertical farm in Italy next year. Both projects, which are being constructed for specific customers, are expected to be completed by the summer, CEO Alex Fisher told just-food, although he was reserved in supplying more details.
Saturn uses hydroponic technology to grow fruit and leafy salad vegetables such as pak choi, lettuce and strawberries, and also herbs. The company uses natural light, cultivating produce in greenhouses, and is backed by Innovate UK, a government agency.
"We'll be building in Oman and Italy in 2021, all being well," Fisher said. "Strawberries are going well in Romania, lettuce is going well in the UK, and we are about to build a new high-spec client site with an R&D area on the side.
"Lots of engagement from retail both in the UK and overseas, and we have some new technology developments underway."
Fisher declined to provide more details on the retail side, citing confidentiality.
Set up in 2008, Saturn has in the past been backed by government-backed innovation agency Innovate UK through project financing and grants. In the UK, it is supporting Shockingly Fresh, a UK-based start-up in the vertical-farming sector, on its first site.