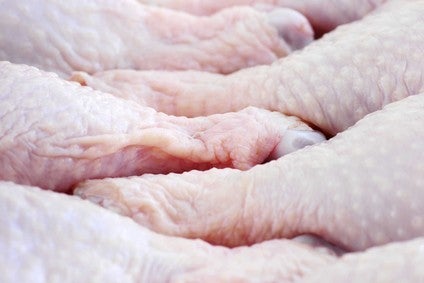 Saudi Arabia has scrapped plans to put a three-month limit on the expiry date for frozen chicken imports.
It was feared in Brazil – a major poultry supplier to the Sheikdom – that the move, announced in May, could jeopardise international supply due to the short storage life the products would have in Saudi Arabia after being transported. The 90-day expiration date on frozen chicken products was to be applicable from the date of slaughter.
The previous expiry date was one year from when the animal was killed.
Brazilian poultry giant BRF warned at the time it could take a financial hit from the short shelf-life proposals which the Saudi Arabia Food and Drug Authority had outlined to the World Trade Organization's Committee on Sanitary and Phytosanitary Measures.
But the Brazilian Association of Animal Protein (ABPA) has now been informed that the measure has been withdrawn after Saudi health authorities accepted evidence from poultry exporting countries and local stakeholders.
The Brazilian government was amongst those to successfully argue that a longer shelf-life was based on established criteria.
In a short statement issued yesterday (17 August), BRF said: "The Saudi Food and Drugs Authority has decided, based on the comments and the opinions of the World Trade Organization (WTO) country members and local stakeholders, to withdraw the notification to the WTO and suspend the implementation of measures that determined the reduction of the shelf-life of in natura frozen chicken and its pieces, from one year to three months from the date of slaughter."