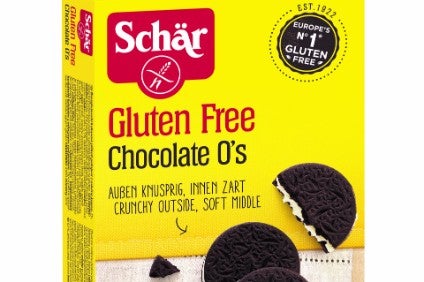 Gluten-free food specialist Dr Schär has launched seven more products into UK supermarkets, including what it claims are the first-to-market gluten-free waffles and the first all-purpose flour mix available in the category.
The latest launches follow previous bakery and bread releases seen from the brand in the first half of the year and the recent launch of gluten-free lines including pain au chocolat and ciabatta rolls.
Dr Schär is making its debut into the UK bakery mix category with the launch of the Mix It! Universal, an all-purpose flour mix.
The company says the mix is the first gluten-free, all-purpose flour of its kind to launch in UK supermarkets, although it is already available on the Continent.

Schär is also claiming a UK first for its gluten-free Waffles, available in Tesco stores.
The company has also released three new chocolate biscuit lines and a new high-fibre crisp bread into Asda and Waitrose stores. The biscuit products are the Schär Chocolate O's, Schär Luxury Chocolate Shorts and Schär Luxury Chocolate Biscuits.

Its final new product is the Schär Deli Style Seeded Loaf. Bread accounts for 18% of gluten-free category sales, according to the company.
Schär said its products are "dedicated to bringing a growing demand for high quality products to consumers".