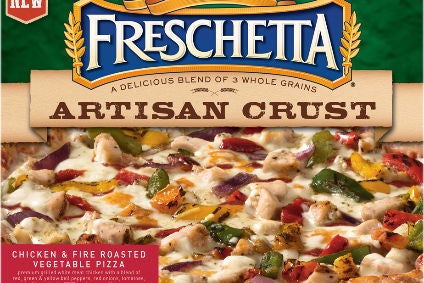 Schwan Food Co. is targeting the better-for-you space with the launch of a line of Freschetta pizza with a crust made from preservative-free whole grains.
The Freschetta Artisan Crust Pizza range will be available across the US and features four variants: Four Cheese, Pepperoni, Margherita and Chicken & Fire Roasted Vegetable.
All feature a 51% multigrain crust made with a blend of three whole grains – whole wheat, brown rice and oat flour.
The firm said the pizza line delivered on the "growing desire for delicious, real foods made with whole grains".
Citing data from the International Food Information Council Federation, Schwan said 75% of shoppers are now looking to buy more whole grains and 67% say whole grains are the most important item they look for on packages.
"With this new Freschetta Artisan Crust Pizza we've combined the wholesomeness that today's consumers want with a mix of traditional and more unique ingredients that offer a whole new flavour level," said Sishir Sekaran, Freschetta brand manager.
Freschetta Artisan Pizza has an RSP of US$7.49.