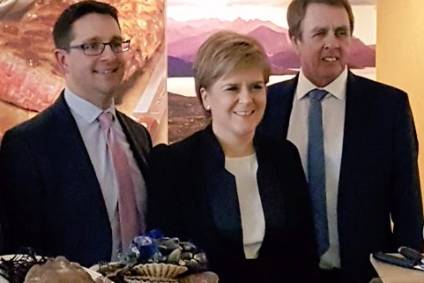 A GBP10m (US$12.5m) package of extra funding to support Scotland's food and drink industry has been announced by the Scottish government in the face of "uncertainty" as the UK prepares to leave the European Union.
Nicola Sturgeon, Scotland's First Minister, said the financial shot in the arm for the country's "phenomenal" food and drink industry is part of a strategy to double the value of the industry to GBP30bn by 2030.
The new strategy, "Ambition 2030", which is supported by Scottish enterprise agencies and the food and drink industry, "will target key markets, boost innovation, focus on skills, and support local producers" over the next three years, the Scottish government said.
Sturgeon said: "Scotland's food and drink sector has enjoyed phenomenal success over the past ten years with unprecedented growth in turnover and exports, including food exports alone doubling to GBP1.5bn.
"Our nation is blessed with all the ingredients we need to achieve greater success. Yet the risk of leaving the EU and the single market means these are uncertain times, while revoking the free movement of people could have a profound impact on our food and drink industry. That is why we are doing our utmost to support the industry – working in partnership with Scotland Food and Drink, the industry bodies, and our producers."
The Scottish government is contributing GBP6.9m to the new investment package, together with GBP600,000 from enterprise agencies and GBP2.5m from the food and drink industry.
Scottish food and drink exports grew by GBP421m in 2016 to a record GBP5.5bn, according to Scottish government figures.
Meanwhile, the Welsh government yesterday launched a GBP21m programme to "strengthen" the country's food and drink sector with Brexit on the horizon.