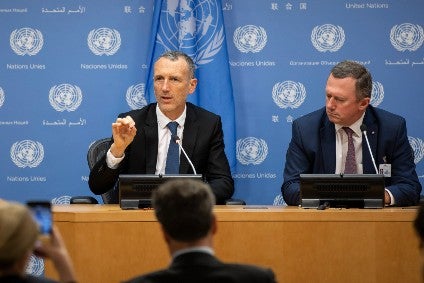 US-based Artisan Partners has echoed the opposition of fellow activist shareholder Bluebell Capital Partners to Emmanuel Faber staying on as chairman at Activia and Alpro owner Danone.
Amid investor pressure over Danone's recent financial performance and over the future of Faber at the helm of the company, on Sunday Danone said Faber would step down as the French giant's CEO but remain in the role of non-executive chairman.
Faber, Danone's chief executive since 2014, had also been the company's chairman since 2017. Artisan and Bluebell, pointing to what they see as Danone's recent unimpressive performance and shareholder returns, have been at the forefront of calls for the two roles to be split and for Faber to stand down as CEO.
Responding to Danone's changes, Artisan said yesterday (3 March) the company should instead appoint a new, independent chairman. "With Mr. Faber as chairman, the incoming CEO will not have the appropriate latitude to set a new direction," Artisan, which has a stake of around 3% in Danone, wrote in a letter to Danone's board.
On Tuesday, Bluebell had written to Danone director Gilles Schnepp to also call for Faber's removal as chairman. "For any new CEO to be successful, he/she needs the discretion to independently set the company's strategy, unconstrained by the decisions of the previous management," Bluebell argued.
The search for a new CEO was the most significant of a series of governance changes announced by Danone on Sunday. Schnepp has been appointed as one of two vice-chairmen, joining Cécile Cabanis, the Danone's former CFO in the role. Jean-Michel Severino, who has sat on the Danone board for more than a decade, becomes the Cow & Gate baby-food maker's lead independent director and chairman of its governance committee.
Nevertheless, market reaction has been muted, with Danone's share price down since the start of the week and analysts covering the business issuing a mixed reaction to the governance changes.
just-food analysis: Uncertainty persists as Danone's changes see Faber remain