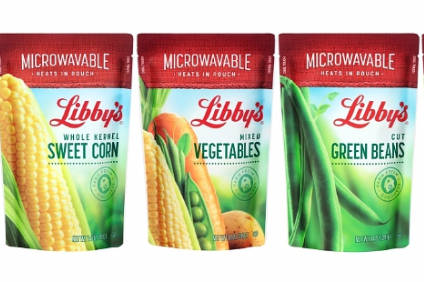 Seneca Foods, the US business, has launched a range of ready-to-cook microwaveable Vegetable Pouches under its Libby's brand.
Libby's Vegetable Pouches, which will sit alongside canned counterparts on store shelves, are "a first" for the brand and cook "in less than 60 seconds in their own pouch" without the need for cooking pots or containers, Seneca said.
Bruce Wolcott, Seneca's vice-president of marketing, said: "Although most parents know vegetables are healthy, they are served at only 23% of dinners. Libby's Vegetable Pouches bring farm-fresh goodness to busy families, providing a wholesome addition that cooks quickly and is easy to enjoy together."
The lightweight pouches come in five varieties – Sweet Peas, Cut Green Beans, Sliced Carrots, Whole Kernel Sweet Corn and Mixed Vegetables – and are all grown and packed in the US, Seneca said. The pouches "stand up straight, are flexible, easy to open and fit nicely into kitchen cabinets, taking up less space".
"They can be served hot or cold, by themselves or as the star ingredient in side dishes, appetisers and other recipes," Seneca added.