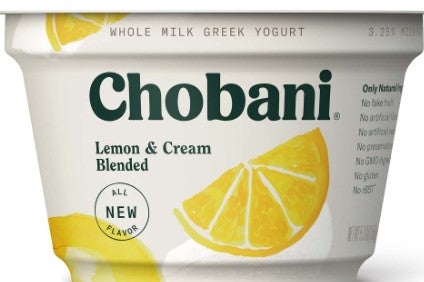 Chobani, the US-based Greek yogurt business, has restructured its management team with chief commercial and marketing manager Peter McGuinness being promoted to president.
In addition to his current responsibilities overseeing Chobani's "demand function", McGuinness will also oversee Chobani's supply chain, manufacturing, sustainability, and research and development activities.
Chobani has also announced CFO Mick Beekhuizen is leaving the company. Michelle Brooks, Chobani treasurer, will serve as interim CFO.
The New York state-based firm has further announced the promotion of several other executives.
These include Federico Muyshondt being named chief customer officer, reporting to McGuinness. In addition to his current role overseeing retail and international sales activity, Muyshondt's role will now include category development, shopper marketing, and revenue and trade management.
Meanwhile, Jason Blaisure has been named senior vice president of supply chain, reporting to McGuinness. Blaisure will oversee manufacturing and engineering operations, procurement, logistics & customer service, and contract manufacturing.
And Parag Agrawal has been named chief information officer, reporting to company founder and CEO Hamdi Ulukaya. He will oversee the company's technological infrastructure and IT operations.
Ulukaya said: "We created this company with people at the centre, and they are the reason for where we are today. Peter has been an amazing member of that journey, and I'm honoured and happy to have him as president."