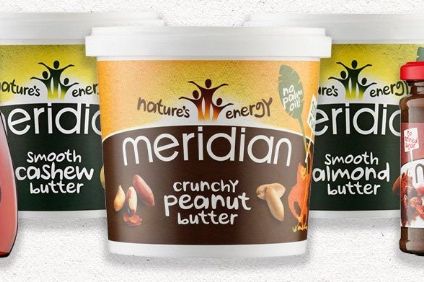 Belfast-based SHS Group has acquired Hampshire's 3V Group for an undisclosed sum.
The deal takes SHS Group into nut butters for the first time.
SHS Group owns sauce and condiment brands Crucials and Gordons and also supplies own brand herbs and spices to major retailers including M&S and Sainsbury's. It also has a drinks portfolio with brands such as Shloer and WKD.
3V Group, encompassing 3V Natural Foods, owns the soft drinks brand Rocks but also has the Meridian nut butters and bars brand in its portfolio.
SHS Group CEO Elaine Birchall said: "The acquisition of Meridian & Rocks strengthens our owned-brand portfolio and manufacturing capability as we continue to invest in bringing high-quality brands to a wide range of channels and geographies.
"We are delighted to have acquired this dynamic business and look forward to working with the management team in driving growth in established and new markets."
Russell Smart, commercial director, 3V Group, said: "The team at 3V have worked incredibly hard to bring innovative and relevant product development to the market in response to changes in consumer demand over the last 12 years.
"The SHS Group, with its depth of expertise in FMCG brands, will help support our growth strategy and market reach in the UK and beyond."
Under the Meridian brand 3V makes peanut butter, almond butter, cashew butter and sunflower seed butter. It also manufactures fruit spreads and nut bars.
SHS Group, which employs nearly 800 people, is in acquisitive mood. In July last year it announced it had bought non-food business Standard Brands in Surrey, and it has also bought London-based no&more, which sells flavoured spring water.