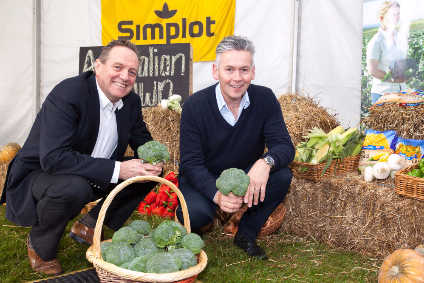 Farmers in three Australian states are set to grow "millions of extra vegetables" to meet increased demand under a new supply agreement between the country's second largest grocer, Coles, and US-based agri-food business Simplot.
Coles has committed to sourcing an additional six million kilogrammes a year of previously imported produce to the benefit of producers in Tasmania, New South Wales and Queensland.
Simplot said the new contract "strengthens a 20-year relationship with Coles" and follows a five-year contract signed by Coles in 2014 to source 100% Australian-grown vegetables from Simplot for Coles' brand frozen vegetable and potato products.
Terry O'Brien, Simplot's MD, said the extra volume for the new contract would be sourced from Simplot for the Coles and Birds Eye brands. "The new contract will benefit more than 240 growers in Tasmania, New South Wales and Queensland by providing long-term security for these growers and their communities."
According to Simplot, the extra demand represents a 25% increase in the volume of Australian-grown frozen vegetables supplied to Coles. The new contract brings the volume that Coles sources from Simplot to 56m kgs of Australian-grown frozen vegetables and potato each year, Simplot said.
Coles MD John Durkan said the Simplot contract was "an important extension of its Australian-first sourcing policy". Durkan said: "We know our customers want to buy Australian-grown food so we're pleased to be extending our 20-year partnership with Simplot. We started on the Australian-grown journey with Simplot in 2006 when we entered into our first contract for Australian-grown frozen vegetables and potatoes. Then in 2014 we converted all our Coles brand frozen range to Australian-grown vegetables."
Simplot produces 30 Coles brand frozen vegetable and potato products as well as a broad range of Coles brand products in chilled and frozen fish, chilled and ambient sauces, chilled pasta, meals and Australian-grown beetroot. In addition, Simplot supplies Coles with more than 200 of its own branded products including Birds Eye, Edgell, Leggo's and John West.
Simplot employs 2,800 Australians and said it has continued to invest in its six regional manufacturing sites at Ulverstone, Devonport, Echuca, Pakenham, Kelso and Bathurst over the past 20 years.
Earlier this year, Simplot acquired three cooking sauce brands in Australia held under licence by UK food business Symington's from Unilever.