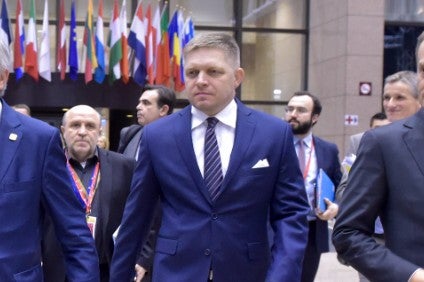 The leaders of four central European countries are to meet to discuss concerns over the quality of branded food products sold in the region.
A summit of the leaders of Czech Republic, Hungary, Poland and Slovakia will be held "to discuss a joint policy towards a different quality of branded food products sold in these four countries compared with the western ones", a spokesperson for the Slovak Government Office told just-food today (24 February).
The meeting, set to take place in Warsaw next week, will discuss concerns aired by Hungary and Slovakia food companies are putting different ingredients in branded products on sale in those countries.
The summit will "call on the [European] Commission to take legislative measures that would ban such practice … that humiliates people and creates two categories of people," Slovak Prime Minister Robert Fico reportedly told a news conference on Thursday.
Slovakia has accused several international food companies of distributing products in the country of a "lesser quality" to identical products sold in other European Union countries.
Meanwhile, tests by food safety officials in Hungary have claimed there can be "differences in both quality and content" between the same branded food on sale in the country and in neighbouring Austria. This week, Hungary ordered fresh tests.
Gabriela Matecná, Slovakia's Agriculture and Rural Development Minister, said tests conducted by the country's State Veterinary and Food Administration on "identical products sold in Slovakia and Austria showed nearly half had differences that greatly affect the quality".
The Slovak tests focused on dairy, meat, fish, chocolate and bakery products, in addition to coffee, tea, seasoning mixes and spices.
As many as half the products tested sold in Slovakia were found to have "differences significantly affecting their quality" compared to the same products sold in Austria, Matecná said. "These mainly involved lesser portions of meat, higher proportions of fat, artificial sugar substitutes amounts of preservatives or lower weight."
Matecná said the tests "confirmed fears" she had raised previously with EU officials and she called on domestic consumers "to give preference to Slovak products (as) we can still boast high-quality domestic products".
"I call on all the multinational food producers in the common European market to cease creating two classes of consumers," Matecná said. "Brands have to be a guarantee of a certain level of quality, if not, one has to consider brands' credibility. Consumers expect the same quality of the same brand regardless of the country of manufacture or purchase."
Announcing Hungary's plans for more tests, Róbert Zsigó, the country's minister of state for food chain supervision, said: "This is primarily a moral issue, not a legal issue. The Hungarian people expect to be able to purchase the same quality foods from the multinational companies involved as Austrian consumers. We are not awaiting explanations, only fair and correct treatment. People have had enough of double standards."
Officials for FoodDrinkEurope, the organisation representing food manufacturers operating in the EU, could not be reached for comment at the time of writing.