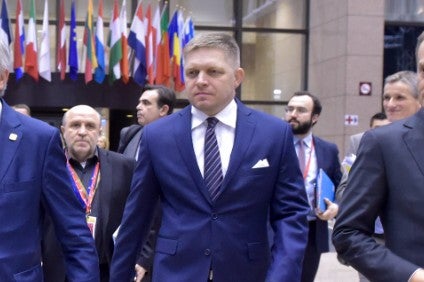 The row over food standards between the EU and four of its member states in the centre and east of the bloc shows no sign of going away, with Slovakia Prime Minister Robert Fico hitting out at Brussels ahead of talks with the European Commission.
At a press conference earlier this week, Fico alleged the EU is operating double standards by allowing manufacturers of food and other products to vary the contents of their products when they are sold outside western Europe.
Now he is due to meet European Commission president Jean-Claude Juncker to thrash the issue out.
Fico said: "I can't accept it that citizens of the Slovak Republic are being treated this way."
Last week The Czech Republic government asked the European Union to more closely police food standards to ensure a level playing field exists.
The country's agriculture minister, Marian Jurecka, claimed tests carried out by his ministry and the Institute of Chemistry and Technology showed products in Czech supermarkets often had less of the main ingredients than the version sold in Germany, in foods such as luncheon meat and fish fingers.
And in March, Bulgarian ombudsman Maya Manolova said in a statement Bulgarian consumers suffered from the alleged double standards of food sold in the EU.
Slovakia Prime Minister Fico claims to have more direct experience of the same issue. He said he had recently bought fish fingers and said those bought in Austria had 300 grams and were made up of 65% prime fish, whereas the same product sold in Slovakia for the same price weighed 280 grams and contained 58% prime fish.
The issue was discussed yesterday (19 July) at a meeting of the Visegrad Four (V4) – the Czech Republic, Hungary, Poland and Slovakia – in Budapest and a spokesman for the Slovak government told just-food Fico will meet with Juncker in Brussels next week.
The Commission has so far rejected calls from the central and Eastern European member states for a crackdown on so-called 'dual quality foodstuffs' but is now making more placatory noises as Fico and other Visegrad Four leaders seem in no mood to be brushed aside.
He said such measures violated EU rules of the single market. "We have to defend ourselves; we cannot accept this," Fico said.
"We only want people in Slovakia to have access to food of the same quality as people from the west."
Should the EU be unresponsive to their demands, an outright boycott of offending manufacturers' products may be a step too far – as it would violate EU member state competition rules – but the Visegrad countries have talked about the possibility of an EU "citizens charter", an initiative to obtain a million signatures to put pressure on the EU to standardise products throughout its member states.