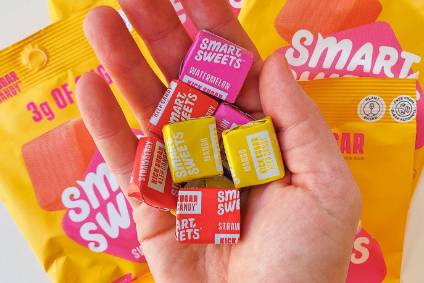 SmartSweets, the Canada-based supplier of lower-sugar confectionery, has private-equity firm TPG as its new majority shareholder.
The Vancouver-based business was founded in 2015 by Tara Bosch, who will remain an investor but no longer be the company's CEO. Douglas MacFarlane, the former CEO of Canada's Voortman Bakery, is to take the helm. The financial terms surrounding the takeover were not disclosed.
SmartSweets' products, which the company says are free from added sugar and artificial sweeteners, are sold in Canada and the US.
Bosch, still in her mid-twenties, will have a seat on the SmartSweets board, working on innovation and "strategic initiatives". She said: "The squad and I are beyond excited to welcome Douglas to the rocket-ship. He brings the exact combination of leadership and experience SmartSweets needs to take our innovations and our 'kick sugar' mission to the next level. I cannot wait to partner with Douglas to further our long-term strategy, community and brand building, product innovation, inhouse representation and inclusion work, and other strategic priorities."
MacFarlane, who left Voortman in January after just over four years as CEO, has also worked at US FMCG company Clorox and Canadian protein group Maple Leaf Foods. He said: "I am so excited to help write the next chapter of the SmartSweets story with Tara, the SmartSweets family, and TPG," said MacFarlane. "Five years ago, Tara disrupted the candy aisle with a low-sugar, radically better choice to our favourite treats."
TPG said the transaction was carried out through its "middle market and growth equity platform", TPG Growth. Heather Smith Thorne, a partner at the TPG Growth unit, added: "Beyond taste and ingredients, a brand's staying power relies on its ability to engage and identify with consumers. Tara and her team have formed a deep and authentic connection with their customers that has translated to tremendous sales momentum and a leadership position in the better-for-you food movement."
Smith Thorne joined TPG in May last year after nine years at US private-equity firm Swander Pace Capital. Voortman was acquired by Swander Pace Capital in 2015, with MacFarlane joining the Canada-based biscuit maker from Clorox upon that transaction.