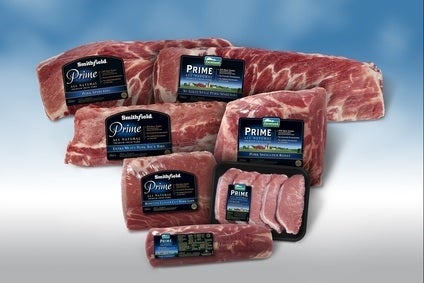 US pork processor Smithfield Foods has reported a jump in annual profits, as sales growth across all of its divisions offset higher raw material costs.
Smithfield, owned by China's WH Group, also benefited from higher equity income from its joint ventures in Mexico.
For the year ended 28 December, net income rose to US$556.1m from $120.7m. Operating profit increased to $931.6m from $338.5m.
Operating profit from Smithfield's packaged meats business rose 6%. Earnings from the company's international business more than doubled, amid higher sales, lower raw material costs and the income from Mexico.
Sales also rose 8% to $15bn.
For the fourth quarter, net profit increased to $152.6m from $34.7m a year earlier. Operating profit grew to $224.9m from $111.3m. Sales increased 5% to US$4.1bn.
"Our record earnings underscore Smithfield's evolution into a branded packaged meats company. We made significant progress on a number of fronts this year across all of our divisions and I am proud to report that we continued to strengthen our marketing and brand building efforts to drive product mix improvements, while maximising our manufacturing platform to operate more efficiently. This allowed us to deliver strong margins plus volume, market share and distribution gains across a number of our core brands and strategic product categories, despite extremely high raw material costs," said CEO Larry Pope.