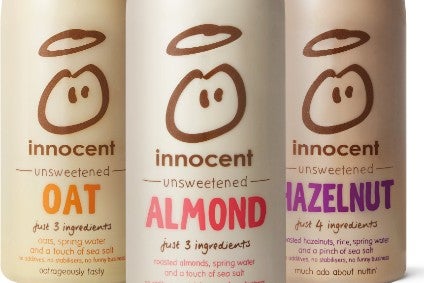 just-food publishes the most notable product development from the international food sector, presented in bitesize format to give you a flavour of the innovation from your peers and competitors announced this week.
Smoothie maker Innocent Drinks moves into dairy alternatives
UK smoothie business Innocent Drinks, majority-owned by Coca-Cola Co., is to enter the country's dairy-alternatives market.
In an eye-catching move, Innocent is rolling out a range of three drinks, which hit upmarket retailer Waitrose and online pure-play Ocado next month, with the UK's Big Four grocers following during May and June.
The almond and oat drinks contain three ingredients – either almond or oat, plus spring water and sea salt. The hazelnut variant has four ingredients, as it also includes rice.
The drinks have a recommended retail price of GBP1.99 (US$2.77) for a 750ml bottle.
Sonoma Creamery introduces Cheese Crisp Bars
California's Sonoma Creamery has launched Sonoma Cheese Crisp Bars, a crispy, savoury snack baked with cheese.
Building on the concept of Sonoma's Cheese Crisp line, the bars come in five flavours – Parmesan, Everything Cheddar, Savory Seed, Pepper Jack and Bacon Cheddar. Light.
John Crean, president & CEO of Sonoma Creamery, said: "Our Cheese Crisp Bars are the perfect solution to satisfy those mid-day or afternoon cravings but without all that sugar or the long ingredient list which you find in most snack bars."
The bars have a RRP of US$1.99.
PepsiCo launches Sunbreaks snacks in France
PepsiCo, which markets a range of baked-snacks products in the UK and Australia under the Sunbites brand, has taken the concept to France under a new moniker.
The company has rolled out Sunbreaks into the French market. PepsiCo's French arm said Sunbreaks was "a strong response to consumer expectations" in the country, emphasising the snacks are made with whole grains and less salty, as well as contain no palm oil, preservatives nor artificial flavours.
PepsiCo is selling 28g and 95g bags in the retail channel and the smaller pack in foodservice.
Muller launches lactose-free yogurts
Germany-based dairy group Müller is to enter the UK's lactose-free yogurt market.
As well as launching into lactose-free, Müller is rolling out a quark yogurt in the UK, one of its largest markets outside Germany.
"We are already the UK's favourite yogurt and desserts brand but we must continue to meet the needs of our customers every step of the way," chief marketing officer Michael Inpong said.
The quark yogurt will hit the market this month, with the lactose-free product following in May.
Unilever's Sir Kensington's moves into new category
US condiments maker Sir Kensington's, owned by Unilever, has added a new line to its products – ranch dressing.
Sir Kensington's, snapped up by Unilever last year, showcased the range of dressings at last week's Expo West trade show.
The company showcased a sunflower oil-based "classic" ranch, pizza ranch and buffalo ranch, as well as an avocado-oil ranch with lime at Expo West.
Sir Kensington's Ranch is free of artificial preservatives, colours and flavors – and free of dairy, sugar, soy and gluten.
Interview from April 2017: "We fit Unilever's vision for next generation of good food" – Sir Kensington's co-founder Scott Norton on sale of US mayo maker
Food For Progress strikes major UK listing for Oumph!
Sweden-based meat-free business Food For Progress has secured a major listing in the UK for its flagship vegan brand Oumph!.
Tesco is to stock three Oumph! lines – Pulled Oumph!, Kebab Spiced and The Chunk – at almost 400 of its stores. The deal follows the launch of Oumph! in the UK last year, with its retail debut coming at Whole Foods Market.
News story from September 2017: Food For Progress eyes more avenues for meat-free brand Oumph! after UK launch
Hormel launches new Applegate Natural cheeses
Hormel Foods is launching a new range of natural cheeses in the US through its Applegate brand.
In an addition to its sliced range, Applegate will debut three lines of Applegate Natural shredded cheeses in April: Italian blend, medium cheddar and Mexican blend.
The company is also launching six new sliced varieties under the same label: Medium cheddar, provolone, American-style colby, Muenster, pepper jack and mozzarella – a Swiss version will follow in 2019.
Applegate says the new cheeses are unique in that they use a dedicated pool of milk suppliers sourced from cattle raised without antibiotics and in line with animal welfare standards, are non-GMO project certified, and use simple ingredients with no artificial ingredients, preservatives, or added colours.
Applegate Naturals will be available at select retailers such as Hy-Vee, Meijer, Publix, Sprouts, and Whole Foods Market at a suggested retail price of US$4.99.
Barilla introduces gluten-free crispbreads from Wasa
Italian pasta company Barilla is introducing a new line of gluten-free crispbreads in the US under its Wasa range.
Barilla is seeking to exploit a gap in the market with Wasa Gluten Free Original and Wasa Gluten Free Sesame & Sea Salt, priced at US$3.99.
Citing a range of data including the US Census Bureau, the company said the gluten-free cracker category has been growing at an annual rate of more than 13% since 2015 as people begin to adopt a gluten-free lifestyle, and is expected to "continue rapid growth".
The gluten-free crispbreads are made with potato and amaranth, an ancient grain that is naturally gluten-free. They contain no lactose ingredients, are vegetarian and are baked without palm oil.
Melissa Tendick, marketing vice president for the Americas at Barilla, said: "We felt it was important to develop a crispbread line for the increasing number of people who are adopting gluten-free lifestyles, while still ensuring that it delivers the taste and texture crispbread cracker lovers expect from Wasa."
Kepak's Rustlers brand moves into breakfast category
Ireland-based food manufacturer Kepak is moving into the UK breakfast category through its convenience brand Rustlers.
Rustlers All Day Breakfast Sausage Muffin will launch in UK grocery stores and convenience channels early in April at a recommended retail price of GBP1.5 (US$2.07).
The microwavable product features a sausage patty in a muffin bun, topped with cheese and tomato ketchup.
Citing data from IRI and Kantar, the company says the UK's micro-snacking category is valued at more than GBP120m, with one in five households now buying into the category.
Adrian Lawlor, Kepak Convenience Foods' marketing and business development director, said: "We wanted to launch a product concept that was well established in foodservice and critically that would be competitive, from a value for money perspective, with the leading players in the sector – McDonald's and Greggs."
He added: "The breakfast product launch underlines the growing contribution that chilled convenience can make in retail. A key driver of this is the rise in consumer demand for meal and snack solutions that make their lives easier."