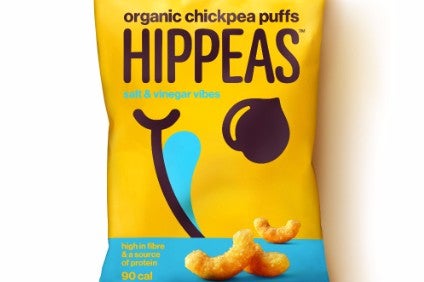 US-based chickpea snack brand Hippeas has received US$10m in capital from investment firm CAVU Venture Partners.
Hippeas says it will use the investment to scale expansion.
Launched a year ago by US firm Green Park Brands, Hippeas can now be found at 100,000 points of sale and is sold in the US and the UK, at retailers such as Whole Foods Market, Kroger, Albertsons and Tesco.
The company expects to triple its 2017 revenue from Hippeas – a forecast number it has not disclosed – in 2018.
Cavu's co-founder and managing partner Brett Thomas, who will join the Hippeas' board of directors, said: "Hippeas is redefining plant-based snacking with their tasty organic chickpea puffs and unique branding. Their product reflects the desires of today's consumer – to eat delicious, convenient snacks that are healthy and have a positive social impact."
Hippeas CEO and co-founder Livio Bisterzo, who set up Green Park Brands in 2015, said the investment was "a big milestone" for the snacks brand. He added: "I'm thrilled to partner with CAVU given their strong track record in working with entrepreneurs to build iconic brands. Hippeas brings something truly innovative to snacking, which is why the velocity of our growth has been so incredible. Our partnership with CAVU will help us further accelerate that growth so that we become the leading global nutrient-dense snack brand."
The new growth capital from CAVU follows an investment in Hippeas earlier this year from movie star Leonardo DiCaprio and US buyout house Strand Equity Partners.
Green Park Brands remained the majority shareholder in Hippeas after the investment from DiCaprio and Strand Equity Partners. It is unclear how the investment from CAVU changes the way the shares in Hippeas are owned. Bisterzo had not responded to requests for comment at the time of writing.
CAVU invests in high growth, food and beverage brands and has offices in New York, Los Angeles and Austin. Last year. it invested $2m into Chef's Cut Real Jerky.