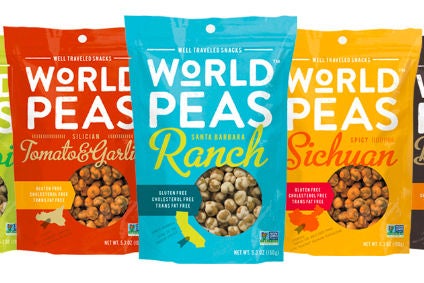 US better-for-you snack maker, Snack it Forward, has announced the acquisition of savoury snack maker World Peas.
World Peas produces legume-based savoury snacks. Their line includes coated peas and fava beans and targets consumers looking for a low calorie, high protein and high fibre natural snack.
The acquisition will see World Peas join Snack it Forward's Sunkist fruit and nut line in what Snack it Forward says created "a highly innovative, complementary and scalable portfolio that brings the hottest natural ingredient trends to the rapidly growing healthy snacking category".
"We have been thrilled by consumer and retail partner enthusiasm for our line of Sunkist Trail Mix Redefined and Sunkist Fruit Chips, giving us a strong platform to launch deeper into the better for you snacking space," said Nick Desai, chairman and CEO of Snack it Forward. "The addition of World Peas to our snacking portfolio strengthens our healthy snacking positioning, opens up exciting new ingredient sourcing channels and gives us stake in the rapidly growing legume snack segment. We are especially excited about the new distribution channels that the World Peas brand opens up for us to efficiently leverage for our existing and future brands."
Anish Sheth, CEO and founder of World Peas Snacks, added: "As an innovator in the legume-based snack segment, World Peas has introduced flavoured pea and favas to a loyal fan base of healthy minded snackers. Joining the Snack it Forward family will help us jointly achieve our vision of delighting consumers with deliciously healthier snacks."
Terms of the transaction were not disclosed. The deal sees Sheth join Snack it Forward as president of Pulse Snacks.