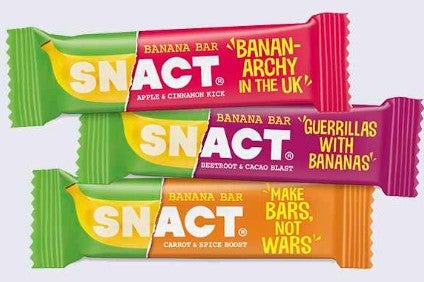 Eco-conscious UK food company Snact has launched a range of "waste-fighting banana bars" after another successful crowdfunding exercise.
The new range adds to its fruit jerky snacks introduced when the London-based firm started in 2013. The banana-inspired bars use decomposable packaging and are available in three flavours: apple & cinnamon kick, beetroot & cacao blast, and carrot & spice boost.
Under its 'Snactivism' banner, the company campaigns to reduce food wastage from surplus production or because it does not meet stringent quality standards set by supermarkets. With its original fruit jerky product, the firm said it saved tonnes of apples from going to waste. It has also partnered with TIPA, a developer of sustainable packaging headquartered in Morristown, New Jersey.
Snact's web page said: "We want to stop 1.4m bananas going to waste every day by turning them into awesome food waste-fighting delicious banana bars, packed with all the nutrition of flawless fruit. One bar will save one banana from going to waste, and will give you a wholesome, slow release energy boost."