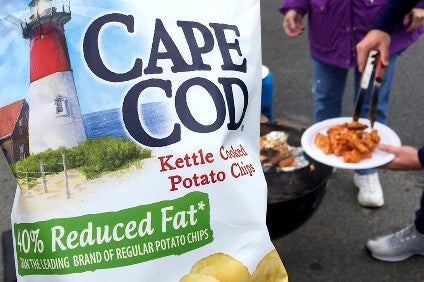 Snyder's-Lance interim CEO Brian Driscoll said today (8 May) the US snack maker was drawing up ways to "unlock substantial profitability" after confirming a first quarter of "difficult challenges" for the business and one which it caused to issue a profit warning last month.
The Cape Cod crisps and Metcalfe's Skinny popcorn owner booked higher first-quarter sales and improved profits on a reported basis but saw its underlying earnings decline.
Synder's-Lance stuck to its revised annual forecasts, issued last month alongside the departure of its CEO of more than a decade, Carl Lee Jr.
Driscoll, a former CEO of Diamond Foods, which Snyder's-Lance acquired last year, has replaced Lee on an interim basis. He said today: "As we noted in the announcement of our preliminary first quarter results, our company faced difficult challenges during the quarter that impacted our financial results. We are moving aggressively to take action. Our organisation has already begun to coalesce around a set of priorities and actions designed to unlock substantial profitability across the company while sharply expanding our gross margins, over time. We expect these actions to significantly improve our financial performance and deliver long-term sustainable value for our shareholders."
Snyder's-Lance booked first-quarter net income of US$11.2m for the three months to 1 April, compared to a loss of $25.4m a year earlier, figures that included costs from the acquisition of Diamond Foods. The company's operating income was $23.9m, against an operating loss of $27.3m a year ago.
The group said its first-quarter adjusted EBITDA was $52.8m, down from $56.6m in the first quarter of 2016.
Net revenue increased 18.7% compared to $531.5m, primarily due to the benefit of two additional months from Diamond Foods. On a pro-forma basis, as if the transaction had been completed on January 1, 2016, net revenue growth from continuing operations would have been around 1-2%, Snyder's-Lance said.