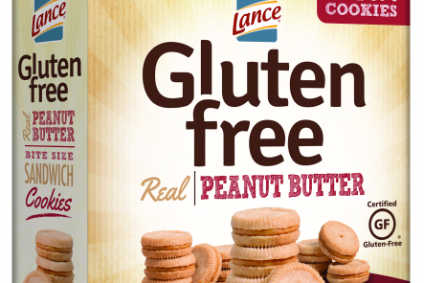 Snyder's-Lance, the US snacks group, is to launch a raft of products across eight of its brands.
Notably, the company is adding to the range of gluten-free products it sells in the US.
It is, for example, launching gluten-free cookies under its Archway brand. US consumers will be able to buy gluten-free sandwich cookies under the company's Lance brand. It already sells Lance gluten-free crackers.
Snyder's-Lance is also adding "larger, deli-style" gluten-free pretzel crisps to its Snack Factory range.
Elsewhere, new flavours are being added to the group's Cape Cod, Late July Snacks and Eatsmart Snacks ranges.
"Snacking has become a new way of life as consumers have less time to sit down for big meals," Rod Troni, chief marketing officer at Snyder's-Lance, said.
As well as targeting US shoppers looking for "better-for-you" snacks, Snyder's-Lance said it was adding "premium" lines to its ranges, including a S'mores variant to its Snyder's of Hanover Sweet and Salty Pretzel Pieces line.
Troni added: "With our recent acquisition of Diamond Foods, our total company will have even more innovation in the future, including new items from Kettle Chips, Kettle Brand, Pop Secret, Emerald and Diamond of California."
—
Today (31 March) is the last day you can benefit from our special membership offer, through which you get 15 months of access to just-food.com for the price of 12 – and, along with giving you three months for free, you will also receive two exclusive research reports. Full details can be found here.