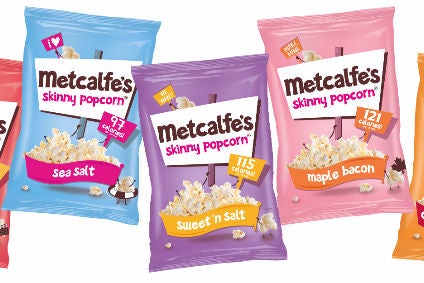 Snyder's-Lance, the US-based snacks group, today (17 April) cut its forecast for its annual earnings after the company indicated its profits fell in the first quarter of the year.
The company, which owns brands including Cape Cod and Metcalfe's Skinny popcorn, expects its annual adjusted EBITDA to be between US$290m and $315m, down from a forecast in February of $330-345m.
Snyder's-Lance said it now expects its earnings per diluted share from continuing operations, excluding special items, to be between $1.05 and $1.20 in 2017. In February, the company forecast that metric would hit between $1.32 and $1.42.
The new forecasts came alongside the publication of preliminary and unaudited results for the first quarter of 2017. The company said it expects its net revenue to have reached US$530-532m in the first three months of 2017, up 18-19% on the first quarter of 2016.
Snyder's-Lance said the results benefited from two extra months from US snacks group Diamond Foods, which the company bought in February 2016. On a pro-forma basis, if Snyder's-Lance had acquired Diamond at the start of 2016, the company's revenue would have risen by 1-3%. Snyder's-Lance said its "legacy, branded" net revenue is expected to have increased by 8-9%.
The group said its first-quarter GAAP net income attributable to Snyder's-Lance is expected to be $11-12m, or $0.11 to $0.12 per diluted share. Net income attributable to Snyder's-Lance excluding special items is expected to be $13-14m, or $0.13 to $0.14 per diluted share. In the first quarter of 2016, Snyder's-Lance posted net income excluding special items of $19.9m.
Snyder's-Lance expects its first-quarter adjusted EBITDA to be $52-54m, compared to $55.7m a year ago.
"Our company faced difficult challenges during the first quarter that have negatively impacted earnings," CFO Alex Pease said. "Although we saw sales and market share growth in the majority of our categories, this has come at a higher cost than planned. Increased investments in promotional and marketing spending combined with gross margin pressure had an adverse effect on our performance and more than offset the benefits of synergy delivery related to the Diamond Foods transaction."
Alongside the revised forecasts and preliminary data for the first quarter of 2017, Snyder's-Lance also announced the departure of president and CEO Carl Lee Jr.
Shares in Snyder's-Lance closed down 15.43% at $33.76.