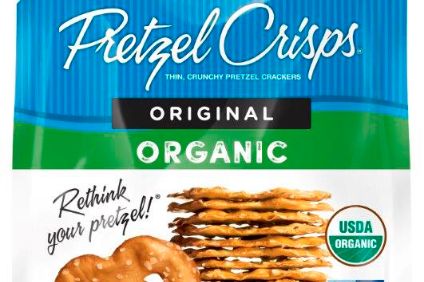 Snyder's-Lance, the US snacks group, has launched the first organic version of its Snack Factory pretzel crisps in its domestic market.
The company said the new crisps would only be available nationwide but only for "a limited time". The crisps have been verified by the third-party Non-GMO Project scheme, Snyder's-Lance added.
Eric Van De Wal, vice president of marketing and innovation of Snyder's-Lance's Clearview Foods division said the organic crisps had been "created for consumers seeking a greater variety of clean-label snacks without sacrificing taste". He added: "This introduction is the first of several new better-for-you snacks forthcoming in 2017 and beyond."
Snyder's-Lance set up Clearview Foods in 2015 to focus on developing "better-for-you" products. The company said at the time the move was part of an "overall transformation" of the business, pointing to its acquisitions of Snack Factory and Late July in 2012 and 2014 respectively, as well as the sale of its own-label arm. Snyder's-Lance bought Snack Factory in 2012 from private-equity firm VMG Partners for US$340m.