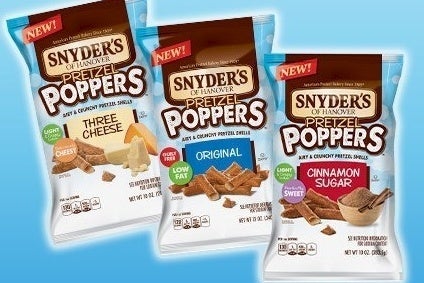 Snyder's-Lance is eyeing demand for lighter salty snacks in the US with its new pretzel line Pretzel Poppers.
The company said demand for "lighter, puffy" snacks was growing five times faster than the salty snacks sector as a whole.
The Poppers come in three flavours – original, Cinnamon Sugar and Three Cheese. The original line will retail for US$3.49 for a 12-ounce bag, with the two flavours retailing at $3.49 for a 10 oz. bag.
Snyder's-Lance also unveiled a line of dippable snacks to target consumers wanting "in-home entertainment" from their snacks.
The Snyder's of Hanover Bowties baked snacks come in three savoury flavours – original, Everything and Parmesan Garlic. They will retail for $3.49 for an 8.25 oz. bag.