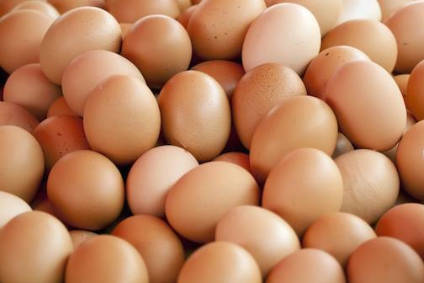 Snyder's-Lance has become the latest US food maker to pledge to convert its egg supply to a cage-free footing.
In a statement, the snacks maker said it would convert 100% of its egg supply to cage-free sources by 2025. The company said the commitment would see it "consistently" increase the percentage of cage-free eggs it uses in production over the next nine years.
Announcing the move, Snyder's-Lance said it came in the context of the compan's ongoing initiatives on sustainability. "To meet sustainability goals, Snyder's-Lance is committed to utilising products and practices, which reduce negative effects on the environment. For example, Snyder's-Lance made a major step forward in its sustainability efforts when it opened the largest ground-based solar farm in Pennsylvania in 2011, which saves 30% of total energy costs in Hanover. Other initiatives have included development of renewable and compostable packaging and more aggressive recycling projects in manufacturing facilities," the company stressed.
Snyder's-Lance joins a growing number of US food companies who aim to switch egg supply to cage-free producers, largely in response to growing consumer demand for cage-free eggs.
Last week, PepsiCo said that it would only use cage-free eggs in North America by 2020. The company said the commitment would expand across "the remainder of PepsiCo's global egg procurement by 2025".
In March, Kraft Heinz, with products from sauces to salad dressings, said all the eggs its North American operations use would be cage-free by 2025. That same month US group The Schwan Food Co., said it would switch to cage-free by the end of 2020.
In February, Mars Inc extended its commitment to use cage-free eggs in its products to the US, Canada and Australia by 2020. The pledge built on an earlier move from 2008 when Mars announced it would move towards the use of cage-free eggs in Europe.
In January, Mondelez International said by 2020 it would only be using cage-free eggs in the US and Canada. While it already uses cage-free eggs for the chocolate it sells in Europe, the rest of its operations it said would stop using caged eggs by 2025.
Prior to this, ConAgra Foods, General Mills and Kellogg set deadlines of 2025 for their products on sale in the US to contain cage-free eggs. Nestle's US arm is looking to switch its sourcing by 2020.
Last week, just-food published an interview with the chief marketing officer of the US arm of UK-based The Happy Egg Co., who discussed the company's free-range eggs, which it said "are a completely different standard" to cage-free.