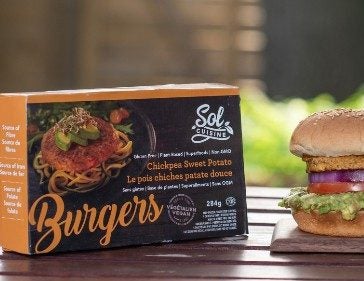 Sol Cuisine, a Canadian plant-based business, plans to go public through a reverse takeover of shell company Platform 9 Capital Corp.
Dror Balshine founded Sol Cuisine in 1996 as a manufacturer of meat-free appetisers, entrées, vegetarian burgers and tofu for the retail and foodservice channels. Its non-GMO, organic, and wheat- and gluten-free products are produced at the company's factory in Mississauga, Ontario.
The transaction is being overseen by investment management firm Canaccord Genuity Corp. as Sol Cuisine seeks a listing on the country's TSX Venture Exchange via the reverse takeover, which does not require the company to go through an initial public offering.
Platform 9 has signed a letter of intent with Sol Cuisine which will see the latter undergo a private placement of so-called subscription receipts in the plant-based business to the value of CAD30m (US$23.9m), with an option to increase the offering by a further CAD4.5m. Those receipts can then be exchanged for one common share in Sol Cuisine.
Completion of the deal is subject to a number of conditions, including due diligence, the signing of a definitive agreement, regulatory approvals and the acceptance of the transaction by TSX, according to a filing from Platform 9, which is listed on the same exchange.
just-food has approached Sol Cuisine for further comment on the transaction but had not received a reply at the time of writing.
Last autumn, Sol Cuisine raised US$10m headed up by the venture-capital arm of Canada's BDC bank, adding to three previous financing rounds where the amounts have not been disclosed. The company planned to use the funds to expand distribution in Canada and the US and to invest in its Mississauga plant.
Its chairman Mike Fata and chief executive John Flanagan also put in their own funds.
Sol Cuisine's products are sold in Whole Foods Market, Albertsons, Safeway, Target, Kroger, Loblaws, Sobeys and Metro.