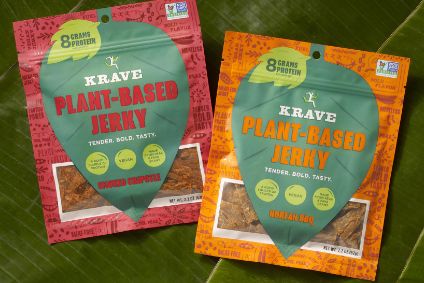 US-based Sonoma Brands has acquired the Krave jerky business from local confectionery giant Hershey for an undisclosed sum.
It means Krave moving back under the control of Sonoma founder and managing partner Jon Sebastiani, who founded the brand back in 2009 before selling it to Hershey in 2015.
Hershey said last month that it was putting three of its brands, including Krave, on the block so it could prioritise "scale assets".
Krave, which now offers meat and plant-based jerky, was originally snapped up by Hershey as part of moves to diversify away from confectionery.
California-based Sonoma is an emerging brands private equity investor and incubator led by food entrepreneur Sebastiani.
Under the Sonoma umbrella he has developed brands including snackable marshmallow line Smashmallow, low-sugar gummy brand Smashgummy and boiled egg brand Peckish.
As a private-equity investor, Sonoma Brands has backed businesses including plant-based chocolate firm Hu Products, children's meal firm Yumble and healthy snacks business Dang Foods.
On taking Krave back, Sebastiani said: "I have always had a great relationship with The Hershey Company and watched them grow Krave.
"From expanding Krave's product offerings to dipping into the plant-based category and increasing worldwide distribution, Krave is in a great spot to come back home to Sonoma where we can continue the brand's fantastic momentum as a category leader."