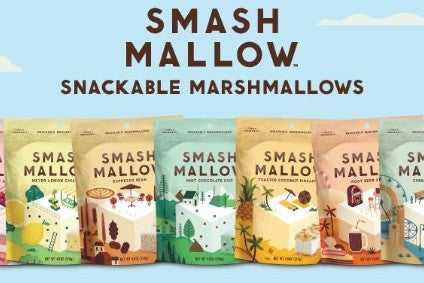 US venture fund Sonoma Brands has appointed David Lacy as chief executive to lead its second incubator brand Smashmallow forward as an independent company after securing a new round of funding.
Jon Sebastiani, who was the founder of the jerky brand Krave sold to US confectionery titan Hershey in 2015, started Sonoma Brands as his next enterprise in 2016. The first foray from that venture was a minority investment in the maker of all-natural coconut crisps Dang Foods, and then the launch of organic and sugar free Smashmallow. Zupa Noma ready-to-eat chilled soups followed.
Based in the Californian town of the same name, Sonoma has just closed its second fund, a US$60m venture that will focus on "investing in game-changing, high-growth consumer brands as well as incubating new concepts".
"With the closing of the new fund, the firm will shift its focus from incubation to outside minority deals, seeking to partner with visionary and imaginative entrepreneurs to usher in a new wave of bold, breakthrough products and to establish the Sonoma region as a focal point for CPG entrepreneurship," Sonoma said in a statement yesterday (9 January).
Using some of the capital from Sonoma's new fund, Smashmallow has closed a $10m financing exercise in partnership with private-equity firm VMG Partners, "allowing the company to continue its growth trajectory as an independent entity".
From this month, Lacy will lead the company as CEO. He was most recently chief financial officer at Habit Inc. and was previously president of finance at Plum Inc. and CFO of Krave Pure Foods.
Sebastiani said: "We are thrilled to have such a strong and talented team, led by David's expertise, to steer Smashmallow into the company's next chapter and continued, limitless growth. Our aim with Sonoma Brands' second fund is to continue this momentum to work hand-in-hand with truly groundbreaking brands that will excite consumers and fill gaps within the market."
Sonoma's latest innovation on the back of Smashmallow is Smashcrispy – "traditional crispy rice treats, with better-for-you ingredients" – available in cinnamon and churro, mint chocolate chip, and strawberry and cream.
VMG Partners' managing director Wayne Wu said of the partnership: "We're thrilled to continue to support long-time friends to VMG in Jon Sebastiani and his team at Sonoma Brands through our direct investment into Smashmallow to support its rapid growth in an effort to disrupt the confectionery snacking category."