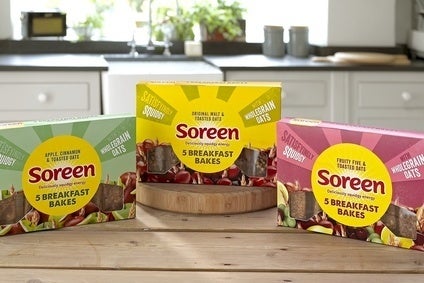 Samworth Brothers, the UK food group, has launched its first on-the-go breakfast offering under the Soreen banner.
Breakfast Bakes will be available in UK supermarkets from 7 September. Samworth Brothers said the move allowed it to expand its product range within the breakfast category.
The product will be available in three variants: Apple and Cinnamon, Original Malt and Fruity Five, each with a wholegrain oat topping.
The company said the Breakfast Bakes would target pre-families and young families that were more likely to eat breakfast out of home.
"This is the first on the go breakfast product from Soreen and it continues our investment in a long line of NPD to help meet consumer needs whilst on the go including pre-buttered snack packs and Lunchbox Loaves," explained Paul Tripp, UK managing director for Soreen. "With the introduction of Breakfast Bakes, we want to redefine the typically dry eating experience of breakfast bars with a product that has the unique Soreen texture that our customers enjoy.
Breakfast Bakes will be available in multipacks of five with an RRP of GBP2 (US$3).
Samworth, a major own-label supplier in the UK and owner of the Ginsters pasty brand, acquired Soreen last year.